China's e-commerce conglomerate Alibaba Group boosted its presence in Brazil by signing a memorandum of understanding with the country's official postal service, Correios, on Thursday, aiming to facilitate cross-border e-commerce between the two BRICS countries.
The memorandum aims to help Brazilian companies, particularly micro, small and medium businesses, access China's market through Alibaba's platforms by improving logistics procedures.
Alibaba.com, the business-to-business site of Alibaba Group, has refocused its efforts in Brazil by launching a marketing campaign to raise brand awareness.
"We have been making efforts since 2010 to respond to the needs of Brazil's small businesses. As a result we had more than 2 million registered users in the country at the end of last year," said Michael Lee, director of International Business Development and Marketing for Alibaba.com.
Lee said the site, which helps match buyers with wholesale suppliers, has achieved this growth without much promotion.
"The country's small business community is vibrant, innovative and open to cross-border trade within the region and overseas. As e-commerce continues to grow, Alibaba.com's business-to-business e-commerce platform is in a great position to help local small and medium-sized enterprises in their quest to source new products for their business ideas," Lee said.
Despite Brazil's economic outlook - Standard & Poor's expects low growth is likely to persist in the country for the next several years with real GDP expanding only 1.8 percent in 2014 and 2 percent in 2015 - Alibaba.com has made Brazil a top prospect for long-term growth because of its large population - 250 million, fifth in the world - and its concentration of 7 million small and medium-sized businesses, Alibaba.com's main customers.
Most important, Brazil is the seventh ranked country in the world for Internet usage.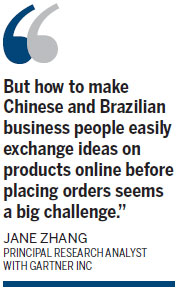 According to comScore, a global leader in digital business analytics, consumers in Brazil spent more than 27 hours per month online in 2013 compared with a global average of 24.7 hours per month.
Jane Zhang, principal research analyst with technology researcher Gartner Inc, said Internet penetration is key for the development of a country's e-commerce market.
"If one country's Internet penetration is above 30 percent, then its e-commerce market can be easily put on a fast track of development," she said.
According to consultancy AT Kearney, Brazil has one of the highest Internet penetration rates among developing countries at 45 percent.
Alibaba.com would not disclose detailed information before the group's upcoming IPO in the United States, but said the site saw a significant increase in buying requests from Brazil made online to tens of thousands of Chinese manufacturers.
According to media reports in 2013, Alibaba.com's top three overseas markets are the United States, the United Kingdom and Australia.
"Our long-term goal is not only to cover this country but also to use it as a step to expand to other South American countries," Lee said.
However, Zhang of Gartner said the reason Alibaba Group is so successful in China is that it provides a complete "ecosystem" related to e-commerce.
"Apart from its online platform, the company also provides online payment service Alipay and online communication tools. Building trust is key to facilitate business between suppliers and buyers who don't know each other," she said.
"But how to make Chinese and Brazilian business people easily exchange ideas on products online before placing orders seems a big challenge. After all, neither of the two countries' official language is English," she said.
mengjing@chinadaily.com.cn