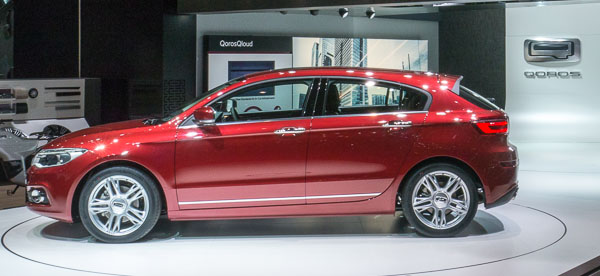 Qoros 3 Hatch is pictured at its world premiere on March 4, 2014 at the 84th Geneva Moto Show in Switzerland. [Hao Yan / chinadaily.com.cn]
New international car brand Qoros will launch a fully integrated marketing campaign to promote its second production model, the Qoros 3 Hatch in China.
The campaign, which will be centered on a new TV commercial directed by Joseph Kahn, will premiere on July 14 on national and regional Chinese TV stations. The 30 second advert will play on the concept that the Qoros 3 Hatch's quality 'speaks for itself' by making the car the star in its own music video.
Stefano Villanti, Qoros Automotive's director of sales and marketing, said: "We think this campaign will resonate with our young, trendy and active target audience and that it will encourage them to get behind the wheel to experience the car for themselves – we are convinced that those that drive it will see that its quality really does 'speak for itself.'"
Directed by Joseph Kahn, who has previously worked with U2, Eminem and Destiny's Child, the commercial shows the car positioned in front of a microphone as it creates the soundtrack using different engine notes and driving sounds.
Consumers can get involved with the campaign on the Qoros website by creating their own personalized soundtrack to the advertisement via a 'Beatbox' app. The tracks are created by choosing a number of different keywords in a sequence that represent a certain car sound - the finished track can then be shared to friends via social media channels.
The advert also features a number of other hatchback models in supporting roles, which perform a series of choreographed moves across the Chaka Salt Lake in Qinghai province, China. Choreography for the cars has been provided by Don Theerathada, who worked on the 'The Fast and The Furious' franchise.
The Qoros 3 Hatch, starting at 119,900 yuan ($19,330), is the second production model from Qoros, following the introduction of the 3 Sedan to the Chinese market late last year. The announcement of the Hatch's China pricing and trim levels in June was streamed live on the Qoros website and various social media sites and reached more than 3.5 million people.
Villanti said now the company need a much faster growth in its awareness, which is now about 40 to 60 percent.
The company has surveyed more than 50,000 targeted customers in the past five years. The size of the car, the size of the wheel, the LED light, the service and features are designed in accordance to the customer research.
"We are convincing the market, convincing the consumers, and the dealer that the 'new made-in-China' exists, and can make high-value product," he said in a group interview on Tuesday.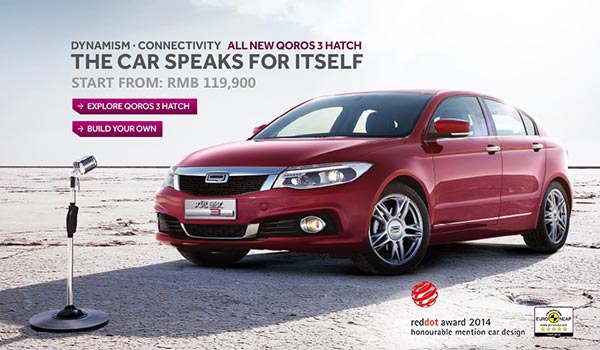 The marketing campaign theme picture displayed on the front page of Qoros Automotive website.[Qorosauto.com]