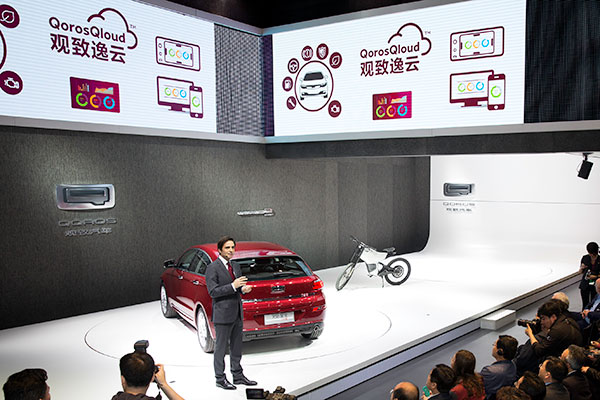 Executive Director of Sales and Marketing, Stefano Villanti introduced the Qoros Qloud during the launching ceremony on April 20 at the Beijing International Automotive Exhibition. [Photot provided to chinadaily.com.cn]
New international car brand, Qoros, hosted two China premieres on April 20 at the 13th Beijing International Motor Show.
The new Qoros 3 Hatch was the primary focus on the brand's show stand. The second production model from Qoros was announced during the press conference by Qoros' Chairman and CEO, Guo Qian and then driven on to the stage by Vice Chairman, Volker Steinwascher through a set of hidden doors at the back of the stand.
The compact hatchback features dynamic styling, excellent connectivity, class-leading interior space, high safety standards, and a generous level of equipment that is not normally available on compact segment cars. It is due to go on sale in the middle of 2014.
Also making its China debut was the eBIQE Concept, which was ridden on stage by Qoros' Executive Director of Design, Gert Hildebrand. The eBIQE Concept is a showcase of the application of Qoros design and connectivity expertise to a non-car product.
Speaking at the Beijing Motor Show, Guo Qian, Chairman and CEO of Qoros, said: "From the beginning, Qoros has been committed to delivering the greatest possible customer satisfaction and we are receiving exceptional feedback from our initial wave of customers.
"We are now enjoying a growing interest in our brand and increasing demand for our products here in China. The introduction of the Qoros 3 Hatch today demonstrates how far we have come and points ahead to an exciting future."