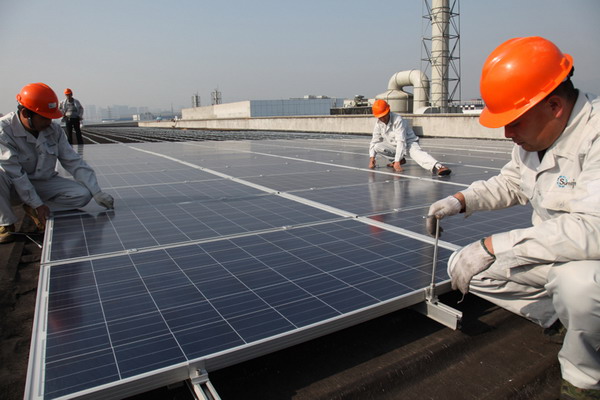 Workers install solar panels on top of houses in Tonglu Economic Development Zone in Zhejiang province, Nov 10, 2013. [Photo by He Xiaohua / Asianewsphoto]
The distributed solar power industry is expected to see brighter days this year and years to come, as China is now stepping up efforts to boost the ailing sector amid economic restructuring and urbanization, officials and experts said.
"Companies and Investors in the solar power sector need to be really acute to the national policy and the market, grabbing opportunities to ride the wave of the fledgling sector," said Wang Jin, director of the Energy Research Institute of the National Development and Reform Commission, during a photovoltaic power investment and financial summit held by pvp365.com, a leading financing and transaction platform providing industry information.
"Distributed PV power generation is a national strategy and a trend," said Wang. "To meet the target, we have to overcome many difficulties in fields such as financing, technologies and risk control."
According to the National Energy Administration, the newly installed capacity of distributed photovoltaic power generation is targeted at eight gigawatts this year, taking up 80 percent of what PV power stations use during the same period,.
Administration insiders said the Chinese government has been mulling new subsidy plans to fuel the industry, which are expected to come out soon, most likely this month or next.
The expected move may largely dispel concerns and boost confidence of PV power industry investors. China's current subsidy for distributed PV power generation is set at 0.42 yuan per kilowatt-hour.
Statistics from the European Photovoltaic Industry Association show the newly installed capacity of total solar power generation stood at 11.3 gW in 2013, trumping other countries and regions worldwide. That of the global market totaled 37 gW last year.
China is a huge market for PV power generation. But money is a key factor that may make or break its development, said Zhang Zhijun, head of the new energy department of the Energy Bureau of East China's Jiangsu province.
Zhang's words were echoed by Song Xiangdong, deputy director of China Quality Certification Center. Song added, "In order to draw more investors, we have to upgrade technologies and their applications, while weeding out obsolete solar capacity. This is the only way out for the PV sector."
"Financial innovations are really important to better underpin the recovering solar power sector in China, and we are now working on it," said Sun Hao, senior investment officer of International Finance Corp Resident Mission in China.
With the support of the government, we as companies should really focus on technology innovations, cost reduction and market promotion, said Hu Rongzhu, vice president of Tongwei Group, one of the leading solar power generation companies.
"The road ahead is bumpy, and difficulties will continue popping up along the way. But we are confident that the problems will be solved one by one, clearing the road for the distributed solar power industry," said Wang of the NDRC Energy Research Institute.