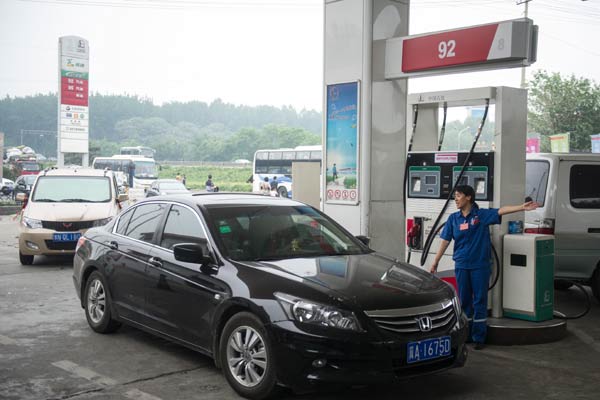 A service station of China Petroleum and Chemical Corp in Beijing. In February, the company said it was planning to sell up to 30 percent of its retail businesses, including a group of service stations, to private investors. [Photo/Xinhua]
Bold, innovative steps needed to tackle energy challenges, says Sinopec chief
Fu Chengyu, chairman of Asia's largest petroleum refiner China Petroleum and Chemical Corp or Sinopec Group, is not some one who walks away from a challenge, but rather relishes it. The bold, often innovative, moves spearheaded by the 63-year old Fu have not only won him laurels, both at home and abroad, but also provided valuable direction for the growth of the energy industry in China.
Fu's testimony does speak volumes, and stands out for the key role he has played in the transformation of Sinopec and China National Offshore Oil Corp or CNOOC as global energy giants.
"If you look at all the entrepreneurs in China, there are less than five who are in the same league as Fu, especially in terms of the deep and accurate understanding of international capital markets and practical experience," said Qu Jian, an independent energy analyst who has been covering the sector for more than 20 years. Fu is "extremely smart and very business savvy", said Qu.
Fu's tryst with the energy sector began at a very early stage. Born in Heilongjiang province in 1951, Fu graduated from China's Northeast Petroleum Institute majoring in geology. Subsequently, he received his master's degree in petroleum engineering from the University of Southern California.
After his academic career, Fu joined CNOOC, China's largest offshore oil and gas producer, in 1982. For the next 20 years, he worked in a variety of roles with the company before taking over as president and chairman of CNOOC in October 2003, a post that he held till September 2010.
In 2011, he was appointed chairman of Sinopec, China's largest oil refiner and the second-biggest oil and gas producer, which was seen as a promotion. Although it takes only five minutes for Fu to reach his Sinopec office in Beijing from the adjacent CNOOC building, the two companies have a huge gap in revenue and business size.
Last year, Sinopec's total revenue was 2.88 trillion yuan ($464 billion), while CNOOC achieved revenue of 285.85 billion yuan, according to the annual reports.
"A company is always stamped with its leader's personal style," said Qu. "CNOOC is highly internationalized since the company had to cooperate with foreign companies at an early stage of its development due to the lack of technology in offshore oil exploration."