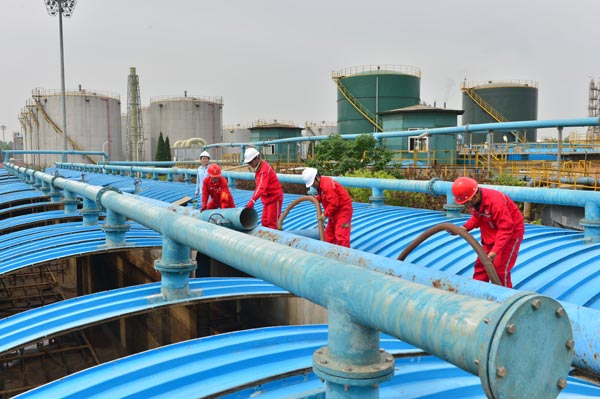 Sinopec workers check a pipeline in Puyang, Henan province. Sinopec said it will invest 4 billion yuan this year to raise its enegy efficiency. Tong Jiang / For China Daily
Sinopec investing billions of yuan in new measures to save energy
China Petrochemical Corp (Sinopec), Asia's largest refiner, said it will invest 4 billion yuan ($640 million) this year and another 10 billion yuan in 2015 in more than 1,000 projects as it strives to double its energy efficiency by 2025.
Chairman Fu Chengyu said during the 2014 China Summit on Caring for the Climate, held in Beijing on Thursday, that Chinese companies including Sinopec have made increasing efforts to protect the environment for sustainable development.
"The biggest resource is conservation, which means raising efficiency is the key to saving energy and cutting emissions," Fu said. "China's GDP will double if the country can raise its energy efficiency by 30 percent."
Most international oil giants consider raising their energy efficiency as a crucial part of their development.
Sinopec, a big energy consumer, can become a big energy saver if it can improve its energy efficiency.
The company said that doubling its energy efficiency would be equivalent to saving 42 million metric tons of coal or planting 940 million trees.
It will avoid 81 million tons of carbon emissions during the next 10 years through energy efficiency improvement, which will be the same as eliminating emissions for a year for 22.92 million economy-model cars.