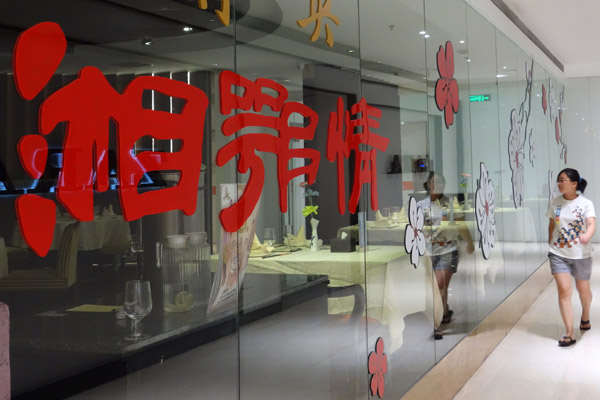 A closed Beijing XE Flavor Group restaurant. The company announced a radical change of direction, switching from catering to Internet services and cloud technology.[Photo/China Daily] 
Some investors likened it to hearing that a cook has become a tech wizard.
Leading high-end restaurant chain Beijing XE Flavor Group Co has announced a radical change of direction, switching from catering to Internet services and cloud technology.
The name of the publicly listed company, according to its statement, has been changed to China Science Cloud Technology Group Ltd, as a result of collaboration between the restaurant chain and the Institute of Computing Technology at the Chinese Academy of Sciences.
The company said its new direction and position will be based on "big data", and it will specialize in the "innovation of industrial models" through providing vertical and integrated cloud platforms.
Chairman Meng Kai said it was a case of finding a new direction quickly - or dying.
The country's first listed catering company had a record loss of 564 million yuan ($92.5 million) last year, reflecting the impact of the government's austerity drive. In 2012, it made a profit of 109 million yuan.
Revenue fell 41.2 percent last year to 802 million yuan because of "changes in the operating environment and a sharp drop in consumption", according to its results released on Thursday.
XE Flavor previously shut some stores that seemed unlikely to be profitable again. Five sites in Hohhot, Nanjing and Wuhan were closed, while the floor area of one outlet in the Xidan area of central Beijing was reduced to cut costs. The company also dropped high-priced dishes from its menu and eliminated minimum charges.
The company also tried group catering and fast food dining, but those efforts were in vain. Soon it moved into environmental protection, cultural activities and new media, most of which are government-supported industries.
Li Qiang, secretary of the board, said recently that the company aims to return to profitability this year by investing in diversified businesses, including environmental protection and culture.
For example, in March, XE acquired 51 percent of Beijing CCTV Splendid Film and TV Corp Ltd, for 20 million yuan. It also acquired Hefei Tianyan Green Energy Development Co Ltd in December and made an investment in Jiangsu Shengyi Environmental Technology Co Ltd.
Xiao Yujia, an analyst from CIConsulting, said that under pressure, XE has been "somewhat blind" in selecting targets for acquisition. The large range of choices that it's made and the sudden, dramatic change in business categories raise questions, Xiao said.
Bian Jiang, a deputy director of the China Cuisine Association, noted that the growth rate of the catering industry slowed to 9 percent last year from 13 percent in 2012 and 16 percent in 2011. Last year was the first time that growth slipped below double digits in 23 years.
Many high-end catering companies have struggled during these difficult times. For example, the net profit of China Quanjude Group Co Ltd, a famed roast duck restaurant chain, fell about 28 percent in 2013, the first decline in five years.
The company said in January that sales were affected by a decline in high-end customers and concerns over avian flu.