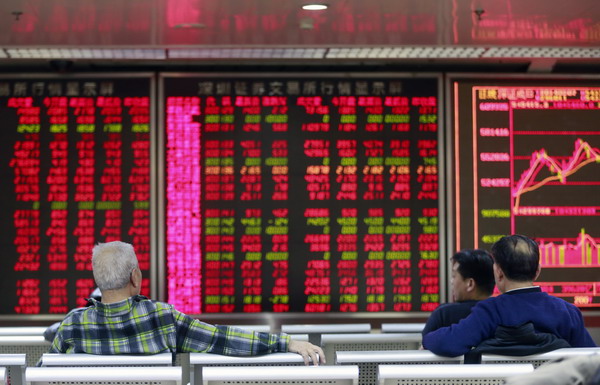 Investors at a securities brokerage in Beijing. Sectors including culture and media, aerospace, communications and electronics technology led a rally in China's stock markets on Feb 7, 2014. Feng Yongbin / China Daily
BEIJING - To Chinese investors' disappointment, the stock market remained listless in the first half of this year, offering no hint that major indices may begin to end the bearish cycle soon.
Experts say this reflects urgent need to reform the capital market to give full play to its critical role in allocating resources and accelerate the country's economic upgrading.
The benchmark Shanghai Composite Index, which tracks larger listed companies, dropped more than 3 percent in the first six months, defying the steady upward trend of the country's economy.
Angel or devil
The stock market is clearly not an angel for individual investors, as the index has been stuck in a lengthy bearish cycle since August 2009, down from 3,478 points to around 2,000 at present.
In many investors' minds, the Chinese stock market has decayed into a gambling den where companies make fortunes overnight just by being listed, not a platform for investment and corporate financing, far from what the government wants.
However, many small and medium-sized enterprises (SMEs) are eager to capitalize on the market to get financing, as bank loans are usually expensive for them, if not impossible, due to relatively high risks.
Yang Renchao, 37, who now runs a software company in South China Hainan province, knows the difficulties from first-hand experience.
Before starting his own business in 2007, Yang spent more than 10 years in Zhongguancun, the Beijing technology hub dubbed China's Silicon Valley.
He saw how difficult developing high-tech firms was, partly due to the difficulty of getting finance. "I worked for at least four companies that went bankrupt in only two to three years," he said.
Yang's Hainan Hongyuan Taisi Science and Technology Co, Ltd, is witnessing strong performance at present, prompting the entrepreneur to prepare to try to acquire finance from the country's SME equities exchange system to help expand his business.
In some senses though, the stock market has failed to meet the needs of both investors and companies in recent years.