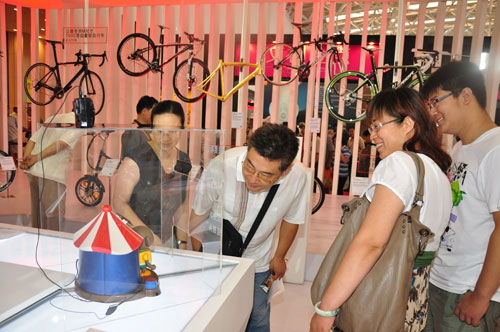 Photo taken at Tianjin-Taiwan Trade Fair in 2012, shows that Robii, a companion robot, can turn any tabletop surface into a virtual display that children can control directly with their fingers. The intuitive and user-friendly interface helps stimulate the sense of touch. [Photo/chinadaily.com.cn]
Tianjin will strengthen cooperation with Taiwan on trade facilitation, making the port city as North China's collection and distributing center for Taiwan products, said Simon Wang, executive vice-president of Taiwan Trade Center, at the 7th Tianjin-Taiwan Trade Fair that kicked off on Thursday.
The two sides also agreed to make further efforts to improve the investment environment, extend industrial cooperation and promote innovation. And also, based on the strong infrastructure of cold chain logistics in Tianjin Binhai New Area, Taiwan will boost cooperation with Tianjin Binhai New Area on pilot program of cold chain logistics industry, Wang added.
The seventh Tianjin-Taiwan Trade Fair and the 2014 Taiwan Manufacturer Exposition is being held from July 3 to July 6 in the Tianjin MeiJiang Convention and Exhibition Center. More than 800 Taiwan companies are displaying 40,000 products at the expo.
This year's event focuses on new electronic technology, Cross-Straits tourism cooperation, industrial designs and Taiwan food products.