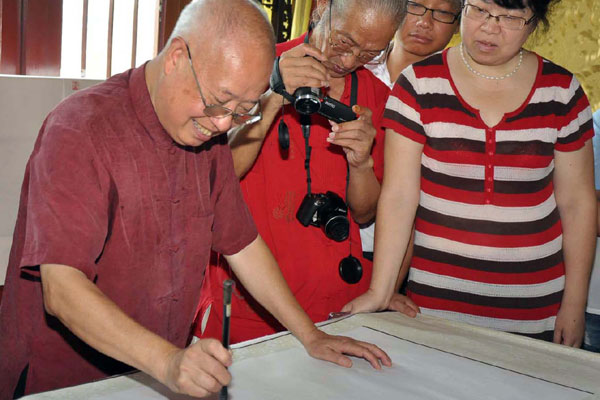 A senior citizen writes the Chinese character xiao, which means filial piety, at an event held by the Happy Maturity newspaper in Changsha, Hunan province. Provided to China Daily
Vast market has allure for companies providing range of goods, services
With China facing the reality of an aging society, the huge potential market of supplies for the growing gray seems an attractive and promising land for business.
The roaring success of one newspaper targeting seniors provides an instructive example.
Happy Maturity, which was launched in September 2009 in Changsha, Hunan province, saw its circulation soar to 1.3 million in little more than three years - quite a feat considering the general slump in the newspaper media industry nowadays.
"The secret of success in our newspaper lies in the growth in the aging population," said He Gu, deputy ed
ito
r-in-chief of the newspaper. "We set this expanding group as our target and provide readers with tailored content."
Before the launch of Happy Maturity, China South Publish and Media Group, its parent company, spent a year and around 2 million yuan ($320,000) on surveys of senior citizens.
The surveys revealed the type of material senior readers wanted, as well as other services the publication should provide, he said, adding that the young team of editors, with an average age of 28, can do excellent work as long as they follow the right formula.
First the newspaper prints stories in larger text, compared with other publications, and then keeps its focus on family affection. It highlights the stories of families and includes retrospectives about people's younger days.
"We provide the good news and hold regular interactions with them; thus the continuing success of the newspaper is assured," he said.
Tu Xin, 78, one of Happy Maturity's loyal readers, said he anticipates the coming of Mondays and Thursdays, when each new issue arrives.
"Some old news and stories can be found, which triggers my memories for the old time," said Tu, who lives in Changsha, adding that his own love story was published, and that issue is a special treasure for him and his wife.