Senior-care sector draws foreign interest
Betting on huge demand from China's rapidly aging population, foreign investors are dipping into the nation's nascent senior-living sector.
On Aug 21, an upscale senior-living community formally opened on the southern outskirts of Beijing. The project was developed with joint investment from Columbia Pacific Management Inc and Sino-Ocean Land Holdings Ltd and won a for-profit operating license.
The residence, featuring a hotel-like environment and professional hospitality and healthcare service, is a novelty in China, where traditional government-run retirement homes often feature shabby facilities and poor service.
US Ambassador to China Gary Locke and Deputy Minister of Civil Affairs Dou Yupei attended the opening ceremony.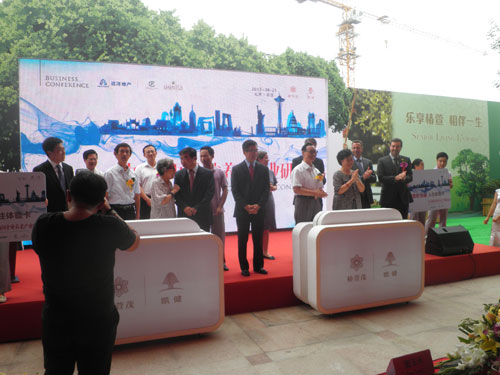 US Ambassador to China Gary Locke and Deputy Minister of Civil Affairs Dou Yupei attended the opening ceremony.[Photo/Zheng Yangpeng]
Dou said he hoped the project could feature the best practices and standards for the senior-living industry and provide a model for other overseas investors.
A high-profile endorsement of that type couldn't have come at a better time. Just four days earlier, an executive meeting of the State Council, China's cabinet, presided over by Premier Li Keqiang announced a plan to encourage foreign and private investors to invest in the elder-care market.
It promised the government will simplify procedures and cut administrative fees to allow non-governmental organizations to run homes for the elderly.
Just recently, the amended Law on the Protection of the Rights and Interests of the Elderly People came into effect. The Beijing project, called Senior Living L'Amore, was the first to get a for-profit operating license since that point.
Previously, the Ministry of Civil Affairs seldom granted such licenses to private investors.
Over the weekend, China unveiled detailed guidelines to boost care for the elderly, offering tax breaks, access to land and more funding. The guidelines offer a 50-percent cut in administrative fees on for-profit organizations.
Dou said opening up the senior-living industry to overseas and private capital will allow China to introduce advanced experience from abroad.
Compared with advanced economies, China's senior-care industry is in its infancy. Yet China's population is aging, just like in advanced economies.
The country has the world's largest elderly population of nearly 200 million, and the number is growing rapidly amid longer life expectancies. The number of people aged above 60 is projected to reach 300 million by 2025 and exceed 400 million by 2034.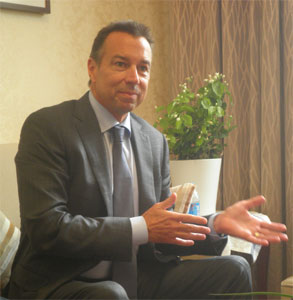 Granger Cobb, president and CEO of Emeritus Corp [Photo/Zheng Yangpeng]
Granger Cobb, president and chief executive of assisted-living company Emeritus Corp, said China is just starting to deal with the issue that the United States faced about 20 years ago, when children started getting concerned with their parents' living arrangements.
"They want to make sure their parents are safe and fulfilled. But they are working and can't be physically there all the time," he said.
The company, the largest in the US assisted-living industry, supported the Beijing project in planning and layout; acquisition of specialty equipment; training of executive directors, nurses and caregivers and the development of operating policies and procedures.