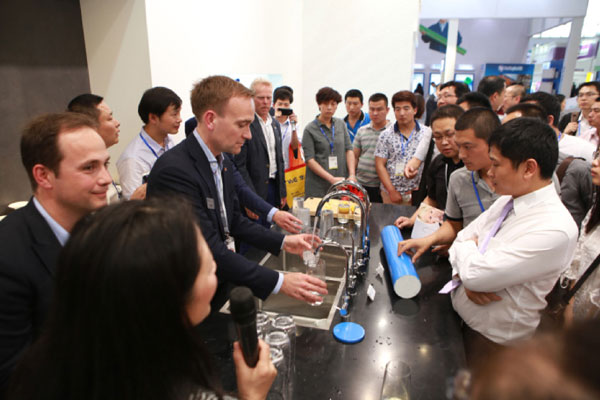 Niclas Wullt, general manager of Bluewater, demonstrates the effect of the water purifiers produced by the Swedish company. Provided to China Daily
Unlike air purifiers, which are an integral part of many Chinese households, water purifiers are still relatively unknown products for most Chinese consumers. But that may soon change as growing concerns about water safety are prompting more Chinese consumers to turn to such products, creating a robust platform for overseas companies to showcase their products.
Bluewater, a Sweden-based water purifier maker, is one of the companies that is looking to make a mark in China with its top-end maximizer products that come with global quality assurances.
According to a recent study published by China Market Mon
ito
r, the size of the Chinese water purifier market was estimated to be about 9.5 billion yuan ($1.5 billion) last year. The study indicates that the market will grow by 80 percent this year.
But the real game-changer for most companies comes from reports that indicate that more than one-third of China's drinking water sources are polluted and unfit for consumption.
According to data published by the Chinese Center for Disease Control and Prevention, in 2011, only 61 percent of the water from major Chinese rivers was in category I to III, the desired level for safe drinking water. The report also pointed out that most of the pipes and other equipment used for transporting water in China are outdated and need urgent replacement.
"Guaranteeing a proper water supply is still a major concern in most rural areas. But raising awareness about water quality is a new mission that we have to undertake seriously now," says Bai Xuetao, deputy director of the environment and heath department of the disease control and prevention center.
"Since smog is visible, people purchase air purifiers quickly. However, water pollution is hard to detect, and there is not much awareness about the quality measures. People react only when there are reported instances of water pollution," he says.
In Europe and the US, more than 90 percent of families have water purifying equipment installed at home, while in China it is less than 5 percent, says the China Market Monitor study.