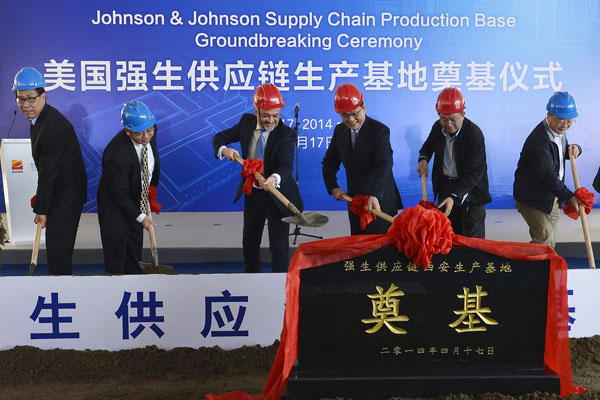 Johnson & Johnson Supply Chain Production Base Groundbreaking Ceremony was held on Thursday in Xi'an High-tech Development Zone. [Photo/Xinhua]
Johnson & Johnson, a Fortune 500 company, is taking a big step to meet growing demand from China and other emerging markets by building its largest supply chain production base in Xi'an, the capital of Shaanxi province, at a cost of $300 million.
The base will become the top bio-pharmaceutical factory with the largest floor area in China after it is completed and put into operation in 2018.
The groundbreaking ceremony was held on Thursday in Xi'an High-tech Development Zone. J&J announced at the ceremony that the production capacity of the newly built production base will be much higher than its existing factories.
According to Cesar Rodriguez, president of Xi'an Janssen Pharmaceutical Ltd, a J&J subsidiary in China, the 267,000 square meters will be home to the innovation center of J&J's supply chain in Asia to enable it to better meet the growing demands of the Chinese and people in other emerging markets.
"The groundbreaking ceremony for the new production base is not only an important milestone in the cooperation between Xi'an Janssen and the high-tech development zone, but also of great significance to the patients who need medicines in China and across the pan-Asian region," Rodriguez said.
The new plant will feature world-class manufacturing technology, advanced quality systems and significantly greater capacity than its current Xi'an-based facilities.
It will set a new standard in pharmaceutical manufacturing in China. With fully automated operations and electronic recording for safety and quality, the plant is expected to reach a full future capacity of 4 billion tablets and capsules and up to 57 million tubes of creams.
"The new production base will continue Xi'an Janssen's 30 years of history to provide innovative and quality products to the market and will make a great effort with its top range production capacity to meet the rapidly growing needs of patients. It will promote the sustainable development of China's pharmaceutical industry," Rodriguez said.