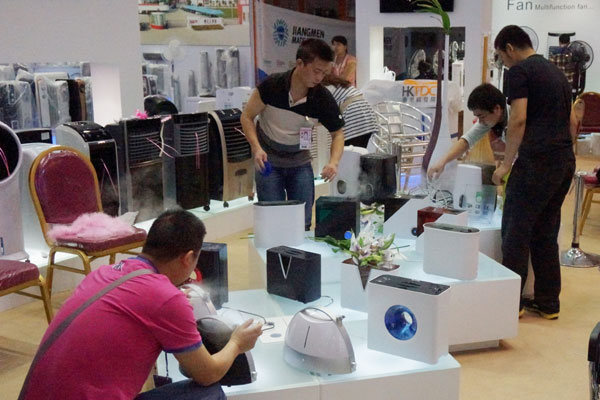 Exhibitors arrange displays at the China Import and Export Fair, known as the Canton Fair, in Guangzhou, Guangdong province, on Monday. The spring session of the fair opens Tuesday. ZOU ZHONGPIN/CHINA DAILY
Orders placed at China's largest international trade fair, running from Tuesday through May 5, will likely stabilize in the shadow of recent sharp export declines.
The Canton Fair - officially known as the 115th China Import and Export Fair-is expected to draw 200,000 international buyers, up from more than 180,000 in the autumn session when there was a drop-off in numbers, said Liu Jianjun, deputy director-general of China Foreign Trade Center under the Ministry of Commerce.
Chinese exports unexpectedly fell 6.6 percent year-on-year in March from a year earlier, following an 18.1 percent slide in February. Imports fell by the most in 13 months. China's official target is a 7.5 percent increase in trade this year. The biannual trade gala is generally seen as a barometer for China's economy.
There are grounds for optimism, Liu said, citing the worldwide economic recovery and optimized product lines that helped strengthen Chinese sellers' core competencies. A weaker yuan is also considered an effective stimulus to exports but should not be counted on as a magic bullet for an economic boom over time, he said.
Liu warned several factors may add to uncertainty, including growing international trade friction and China's drifting away from lower value-added items such as textile production, which may erode its bulky trade base in the short run.
Other complications may come with the loss of a Malaysia Airlines plane last month that carried mostly Chinese passengers, Liu said. He also mentioned international economic sanctions against Russia and a rally in Taipei against the Economic Cooperation Framework Agreement between Taiwan and the mainland.
While some of the slide in exports was attributed to figures early last year being inflated by fake invoices, the general outlook fell a fourth month in a row, according to a survey by the Center for European Economic Research.