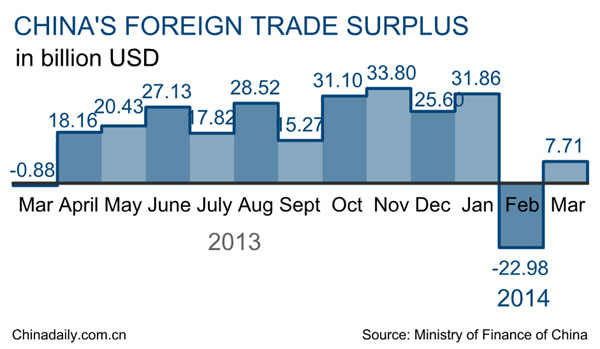 BEIJING--- China's exports slumped 6.6 percent to $170.11 billion in March, customs data showed on Thursday,raising fresh concerns over the health of the trade sector and strength of the country's economy.
Imports were down 11.3 percent to $162.41 billion and total foreign trade volume declined 9 percent to $332.52 billion, the General Administration of Customs (GAC) said.
The trade balance returned to a surplus of $7.71 billion in March after a deficit of $22.98 billion the previous month, the administration said.
GAC spokesman Zheng Yuesheng played down any concerns about exports, attributing the drop to a high base figure in the corresponding period last year.
Exports this time last year were significantly inflated by rampant over-invoicing to disguise capital flows, sending exports up by more than 20 percent year on year in the first quarter of 2013, previous figures showed.
Zheng said the declining trend will be temporary and he is optimistic about trade performance in the second quarter. "China's foreign trade will recover in May," he said.
Thursday's figures also showed that China's total foreign trade volume declined 1 percent year on year to 965.88 billion U.S. dollars in the first three months.
Exports decreased 3.4 percent year on year while imports went up 1.6 percent during the period, with the trade surplus standing at $16.74 billion in the three-month period.
China set a trade growth target of 7.5 percent this year, lower than the 8-percent aim for 2013 and actual expansion of 7.6 percent.