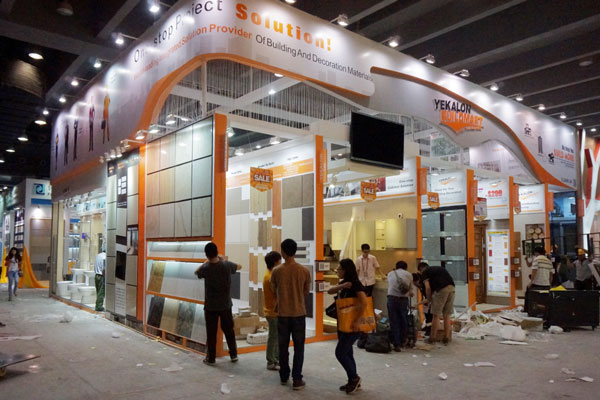 Exhibitors arrange displays at the China Import and Export Fair, known as the Canton Fair, in Guangzhou, Guangdong province, on Monday. The spring session of the fair opens Tuesday. ZOU ZHONGPIN/CHINA DAILY
Some remain optimistic. Wang Tao, chief economist at UBS AG, said China's modest export recovery remains largely intact, buoyed by an uptick demand in the United States and
Eu
rope.
"The ongoing real appreciation of the yuan against the currencies of China's key trading partners and competitors will bring headwinds, but not enough to reverse the slightly positive gross domestic product contribution from net exports we foresee this year," she said.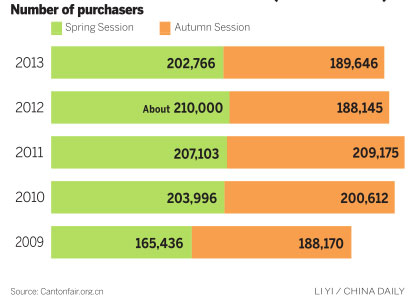 Buyers have lowered expectations about signing deals at the Canton Fair, largely due to European demand and a different sourcing model by US companies.
"We didn't see any pickup in demand among European economies, and the willingness to come for the fair remains low," said Frank Huang, general-manager of a Hong Kong-listed trading company. "Attendance of US clients may also stagnate since US firms make 80 percent of their orders through agencies."
First-quarter orders were slashed because of political turmoil in export destinations, said Gao Qiang, general-manager of Wilon International, a Jiangsu-based manufacturer of electronic machines.
"Our business in Thailand and Ukraine was hit by the ongoing strike and political upheaval. Honestly speaking, we don't expect the trend to be reversed simply by attending the exhibition," he said.
A fair regular, Gao has seen the export tides change, from when clients placed orders on an annual basis five years ago to the current three-month basis.
"The days when foreign buyers didn't bother to negotiate a price are long gone. With surging costs and heated competition in China, our margin was squeezed to just 7 percent last year from 15 percent five years ago," he said.