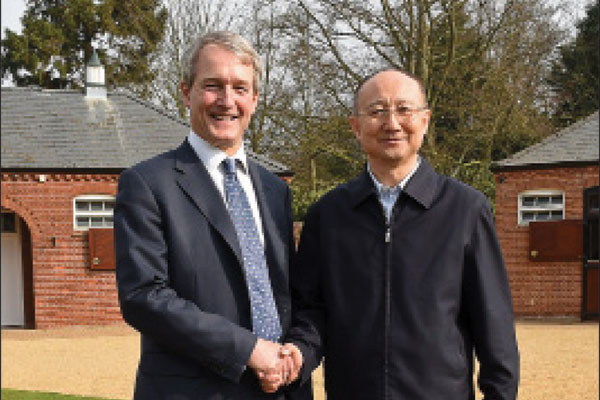 Zhi Shuping (right), China's Minister for Import Controls, and Owen Paterson, Britain's Environment Secretary. Provided to China Daily
Some of the finest racehorses in Britain will soon be exported to China thanks to an agreement by the two governments this month.
Under the agreement, Britain will be allowed to export thoroughbreds and sports horses to China. France and Ireland had earlier signed similar agreements with China.
Horse exports to China could soon be worth 10 million pounds ($17 million) a year to the British economy, the British government says.
Racehorse owners and associations in Britain have increasingly been eyeing the Chinese market, having witnessed growing demand in recent years.
In February last year, a delegation led by Paul Bittar, chief executive officer of the British Horseracing Authority, visited China to initiate discussions with the country's horseracing industry.
Other organizations represented in the delegation included Great British Racing International, Ascot Racecourse, the Racecourse Association and The Jockey Club.
The delegation visited Shanghai, Wuhan, Beijing and Tianjin and met officials and industry figures from a range of organizations including the Shanghai Race Club, China Equestrian Association and the China Horse Industry Association.
A delegation from China's Ministry of Import Controls recently visited Britain to assess the possibility of establishing a good importing process for racehorses.
The Members visited a number of facilities including the Newmarket Equine Hospital, the Animal Health Trust and The National Stud to assess the health and condition of racehorses for potential import.
Following a week-long investigation, the export agreement was signed between Zhi Shuping, China's Minister for Import Controls, and Owen Paterson, Britain's Environment Secretary, in Newmarket, a market town about 100 kilometers north of London.