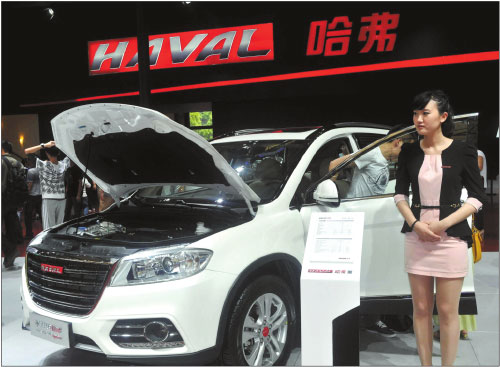 Sales of the Great Wall Haval SUV helped the company become the sales champion among domestic automakers last year. Yan Daming / For China Daily
Forum: Popular for city use, dominant in remote regions
China's love affair with the SUV will continue this year, according to projections from the China Association of Automobile Manufacturers.
The industry group says at least 3.85 million SUVs will be sold in 2014, a rise of nearly 29 percent from last year.
The association's deputy secretary-general Shi Jianhua released the figures at an SUV-themed forum in Beijing organized by the China Business Journal in late March.
CAAM statistics show that China's SUV sales hit 2.99 million units in 2013. More than 560,000 have already been sold in the first two months of this year.
"SUVs will get more popular with people's rising income because the vehicles have good sporty performance and are at the same time as comfortable as sedans," said Shi.
Lin Lei, president of Sinotrust International Information & Consulting (Beijing) Co, told the forum that China's steady economic growth has been boosting the development of its passenger vehicle market.
A record 18 million passenger vehicles were sold in 2013. The SUVs accounted for 21 percent of the total, more than double the ratio in 2008.
Lin said the proportion is 28 percent in the US.
Another driving force behind the popularity of SUVs is a wave of purchases as drivers update their vehicles, said Lin.
He noted that Chinese consumers prefer sedans when they buy their first vehicles and SUVs the second time because they need room to carry more family members.
At the same time buyers born in the 1980s are now a big segment of the SUV market as they aspire for more freedom and diversity compared with earlier generations, said Lin.
Sinotrust statistics show that younger people account for nearly 49 percent of Chinese vehicle owners.
"More and more of them will choose SUVs especially because the government is gradually easing the one-child policy," said Lin.