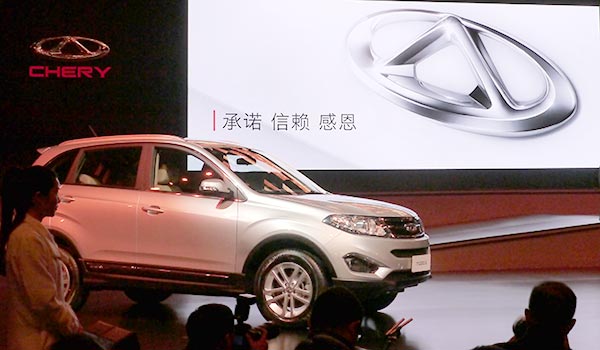 Chery's Tiggo 5 SUV is pictured at the launching ceremony on Nov 28, 2013 in Shanghai, China. [Hao Yan / chinadaily.com.cn]
In a move that suggests Chery, a Chinese auto manufacturer, is planning to enter the Indian market this year, it has shipped a Tiggo5 SUV to India to assist Tata Motors, an Indian automobile company, test the product, according to 21st Century Business Herald on Wednesday.
Chery, which has designed the Tiggo5 SUV from scratch and without infringing intellectual property rights, will export more brands to India if Tiggo5 is able to successfully crack the market and establish brand awareness. Tata Motors expects the SUV to make inroads into the Indian market.
Although Chery now has a full range of product line, it is undergoing restructuring to bring all its multiple brands under "One Chery" strategy. Earlier, Chery had developed many platforms and vehicle models when it was pursuing multiple-brand strategy. With "One Chery" strategy, it narrowed down its products from 22 to 8 in 2013.
The car manufacturer's second-generation products, including Arrizo7 and Tiggo5, may help it expand its business with Tata's help in India, according to the report.
Tata Motors, which acquired Jaguar Land Rover Automobile in 2008, formed a joint venture with Chery in 2012. Chery Jaguar Land Rover plant is located in Changshu,Jiangsu province.
Doing business in India depends a lot on political stability, plus the country's consumption power needs strengthening.
More Chery stories: