Their culture is a strength, not a drawback, for Africans: Lecturer
Sydoine Moudouma says it can be difficult for the Chinese as relative outsiders to operate in Gabon when the country retains such close links to the French.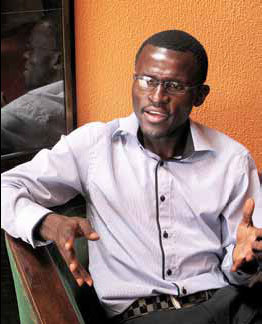 Sydoine Moudouma, a lecturer at Omar Bongo University, says Gabon still needs Chinese investment. Wang Chao / China Daily
"There is no Gabon without France, as the saying goes, and there is no France without Gabon. I think therefore if France feels its position in Gabon is threatened by China, tensions will occur," he says. The 36-year-old academic and commentator on China-Africa relations believes China may always take an uphill battle.
China's position in Gabon has actually improved since the new year with Sinopec subsidiary Addax Petroleum Corp agreeing a 10-year contract to extract oil from three fields in the country and ending a potential $1 billion legal dispute.
Chinese companies are also involved in major construction projects such as China Harbor Engineering Company's $120 million revamp of the waterfront in Libreville.
But more than five decades after independence in 1960, the French remain entrenched in the country with some 10,000 French citizens still living in the former colony and some 300 French companies having a presence.
Moudouma, a lecturer at the country's leading academic institution, Omar Bongo University, was speaking in the lounge of the Le Meridien hotel, which overlooks the Atlantic Ocean. Many of the guests were, in fact, French.
"I don't think the French can have it all their own way anymore. Gabonese people have seen what the Chinese have been doing over the past five or 10 years," he says.
"They have seen the new Stade d'Angondje (the new national football stadium built by the Chinese for the 2012 Africa Cup of Nations), the Senate building and the roads. They can see the Chinese skills in these areas and how they have made a difference."