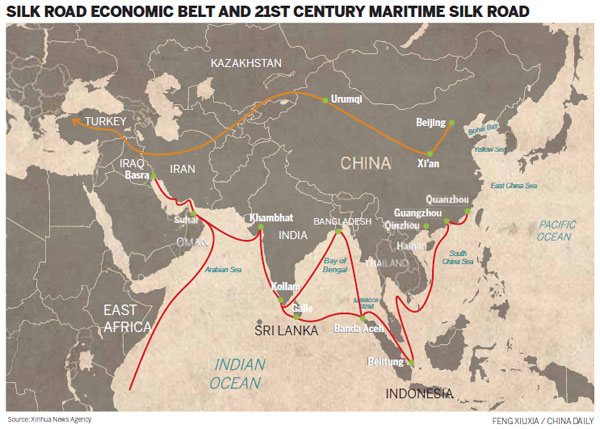 Asian countries should build trust and optimize development mechanisms in the spirit of regionalism to advance the Silk Road Economic Belt and the 21st Century Maritime Silk Road initiatives, a senior Chinese official said on Thursday.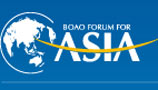 "China's proposal for 'The Belt and The Road' is an open and cooperative proposal," State Councilor Yang Jiechi said at a subforum titled "Reinventing the Silk Road" under the Boao Forum for Asia in Hainan province.
"The new Silk Road, centered on economic and cultural cooperation, aims to neither build exclusive blocs nor interfere with current multilateral frameworks," Yang said. "The Asian land and ocean are wide, and the Asian mind is wider."
Yang said the construction of the new Silk Road, focusing on economic and trade cooperation, will deepen trust between Asian and European countries as well as being mutually beneficial.
"The Silk Road, no longer just a concept in history books, has evolved into a story of modern
logistics
and Sino-
Eu
ropean cooperation," he said.
In a speech in Kazakhstan in September, President Xi Jinping proposed that China and Central Asia establish a Silk Road Economic Belt, a modern and innovative version of the ancient Silk Road from more than 2,000 years ago.
One month after that, during his trip to Indonesia, Xi again voiced the idea of building a 21st Century Maritime Silk Road with Southeast Asian countries.
Xiao Lian, an expert on economic studies at the Chinese Academy of Social Sciences, said the new economic proposals, which will be able to reach more countries and regions than before, will strengthen China's economic cooperation and trade with countries in Asia, Europe and Africa.
"In ancient times, China opened to the world through the Silk Road. Today, China still has strong demands of trade with other countries," Xiao said.
"The land project will largely improve those countries' transportation capabilities, and the maritime project can help ease disputes in the South China Sea between China and some Southeast Asian countries," he said.
Yang said Europe's interest in the old Silk Road and the modern Silk Road is not a coincidence, as the roads have brought tangible benefits to its people.