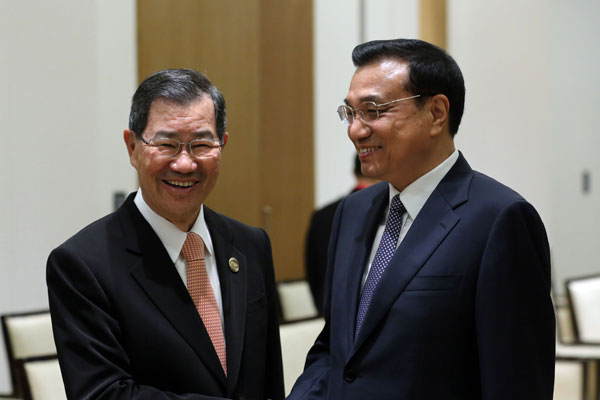 Premier Li Keqiang meets with Vincent C. Siew, honorary chairman of the Cross-Straits Common Market Foundation, on the sidelines of the Boao Forum for Asia Annual Conference in Hainan province on Thursday. Wu Zhiyi / China Daily
Fruitful economic cooperation has 'benefited people from both sides'
Both sides of the Taiwan Straits should cherish the current situation of peaceful development and keep enhancing cooperation, Premier Li Keqiang said on Thursday.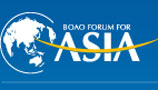 As long as both continue to communicate with each other and move forward on a common political basis, cross-Straits exchanges and mutual understanding will be boosted, Li said on the sidelines of the Boao Forum for Asia Annual Conference.
Li had been meeting with a delegation led by Vincent C. Siew, honorary chairman of the Cross-Straits Common Market Foundation, based in Taiwan. It was the first time Li had met with a politician from Taiwan since becoming premier.
The mainland was deepening reform, expanding opening-up, upgrading its economic structure and maintaining long-term steady growth, which had brought opportunities for cross-Straits cooperation, Li said.
The mainland wants to share the opportunities of economic growth with Taiwan and to take Taiwan people's interests into consideration in cross-Straits exchanges, he added.
"We sincerely hope that our Taiwan compatriots can seize the opportunities," Li said.
Siew said the mainland and Taiwan should positively promote the cross-Straits economic and strategic dialogue, and establish mechanisms to enhance economic cooperation.
Both sides should go hand in hand, jointly face the challenges and create a better future, Siew said.
Li said cross-Straits ties had improved since 2008, and this fruitful economic cooperation had benefited people from the mainland and Taiwan.
Siew said he was grateful for having been invited to attend the forum many times in recent years, adding that he had met with President Xi Jinping during last year's forum.
During the forum's opening ceremony this year, Siew was invited to sit in the VIP zone near Zhang Zhijun, director of the State Council Taiwan Affairs Office.
Zhang said on Thursday that cross-Straits cooperation has been continuously enhanced in recent years, and this should be cherished by those from the mainland and Taiwan.
He told reporters before the opening ceremony that a protest that started last month against the cross-Straits service trade pact showed that some Taiwan people feared that only large companies could benefit from the agreement.