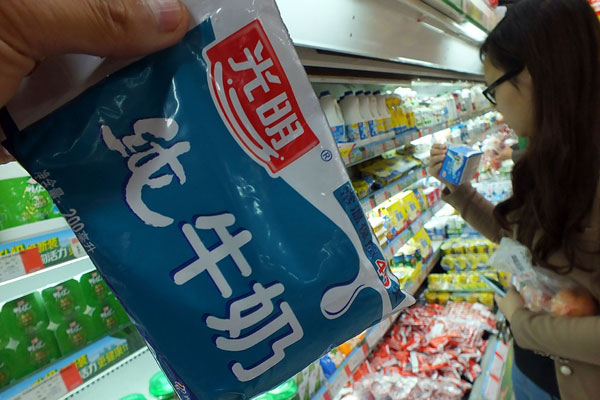 Bright Dairy & Food Co Ltd signed a supply agreement with Australia's Pactum Dairy Group for room temperature milk for China's booming market. Liu Junfeng / For China Daily
Bright Dairy & Food Co Ltd, under pressure of high costs brought on by a lack of raw milk, signed a supply agreement with Australia's Pactum Dairy Group for room temperature milk for China's booming market.
The move reflects rising demand to import room temperature milk rather than sourcing from domestic farms, industry analysts said.
Undersupply pushed up raw milk and product prices last year. That eased in 2014 largely, Song Liang, an industry analyst, said.
"An increasing number of Chinese dairies are looking for raw milk or milk manufacturers overseas to save costs and to better allocate domestic resources," Song said. "International prices for raw milk are often half of what has been offered domestically.
And their quality is better. Domestic raw milk therefore could be used for production of fresh milk and yogurt."
He said the emerging trend to source milk from overseas could lead to a gradual decline of domestic farms.
Bright Dairy President Guo Benheng said the cooperation with Pactum is a major step for his company to globally source and expand in overseas markets. Bright Dairy has in recent years explored international resources for weak links in their drinking milk product portfolio.
Pactum Australia - a low cost manufacturer of ultrahigh temperature products - has built a UHT processing plant in Southeast Australia to meet demand for high quality dairy milk, with it primary market focus on proprietary and private label customers in Asia.
Shanghai-based Bright Dairy & Food's net profit rose 30.4 percent in 2013 to 406 million yuan ($65.9 million) on strong demand, particularly for its fresh milk, yogurt and UHT milk products. It benefitted from its U best premium product series and the star product, Momchilovtsi yogurt contributed 20 percent of total operating revenue. Sales of Momchilovtsi more than doubled to 3.22 billion yuan.
In 2014, Bright Dairy's revenue is forecast to be 18.7 billion yuan and profits 474 million yuan. It is among the top-tier dairy companies in China, with a 6.9 percent market share last year, according to research firm Euromonitor International. Inner Mongolia Yili Industrial Group led the field in drinking milk products with 25 percent.
China's government is promoting consolidation in the sector to improve regulation and quality, which is expected to benefit major dairy producers including Bright Dairy.