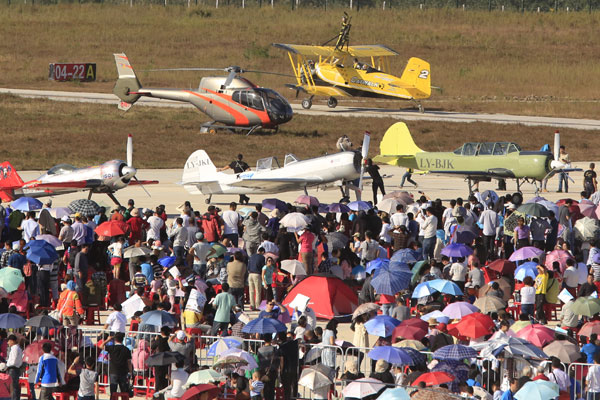 An international light aircraft event takes place in Faku. The county near Shenyang, capital of Liaoning province, aims to be China's "light air capital" with an annual production of 1,000 light aircraft within five years, as well as a center for developing technology and talent in the industry. Tian Weitao / For China Daily
General aviation-related companies are setting up shop in aeronautic hub
Faku, a county near Shenyang, the capital of Liaoning province, has lofty aims. It wants to be China's "light air capital" with an annual production of 1,000 light aircraft within five years, as well as a center for developing technology and talent in the industry.
Spurred by the burgeoning domestic private jet market, Faku has experienced rapid growth at its Faku General Aviation Base, one of the largest in the country.
"A dozen general aviation-related research and production institutes and companies have set up shops in the base and several other projects are under discussion," said Wang Dawei, director of the administrative committee of the base.
The annual output value of the base is expected to reach 100 billion yuan ($16 billion) within five years, he said.
George Heintz (China) Aircraft Manufacturing Co, a branch of the United States-based light aircraft producer, established a plant at the base with an investment of 1.65 billion yuan, Wang said.
Faku is the first base in Northeast China that will make super-short takeoff and landing aircraft. The first planes are due on the market in June, said Wang. A general aviation club will be set up at the base to train pilots.
Bai Yang, chairman of Liaoning Pacific Industrial Co, said his company has invested 560 million yuan at Faku on production facilities for light aircraft.
He hopes the first batch of planes of his company will debut at the end of the year, and he said the company has received about 900 orders.
The main products are two- and four-seat light aircraft, and the majority of the customers are flight enthusiasts, he said.