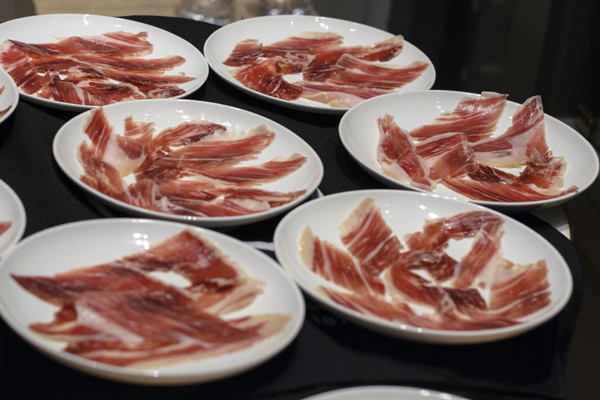 Plates of ham served at la Bordeauxthéque at its grand opening party, in the French department store Galeries Lafayette, in Beijing on Feb 27, 2014. [Photo/chinadaily.com.cn]
HONG KONG - China's WH Group Ltd, the world's biggest pork company, has launched a Hong Kong initial public offering of as much as $5.3 billion in the second-largest ever IPO by a food and beverage company.
The IPO is coming at a time when Hong Kong's stock market has been hit by volatility arising from concerns about political tensions in Russia, slower growth in the Chinese mainland and when the US Federal Reserve may raise borrowing costs.
In view of the market conditions, WH Group and some of its shareholders are offering shares in a relatively wide range of HK$8.00 to HK$11.25 each. A total of 3.65 billion new and existing shares will be offered, putting the deal at up to HK$41.06 billion ($5.3 billion), according to a term sheet seen by Reuters on Thursday.
WH Group, whose products include Smithfield ham, Carando pepperoni and Farmland bacon in the United States, has been pre-marketing the IPO since last week. It plans to use some of the proceeds to pay down debt it took as part of its $4.9 billion takeover of US-based Smithfield Foods Inc last year, people familiar with the plans have said.
The group has "a good anchor book", though it has signed no cornerstone investors due to volatile global markets, a source familiar with the deal said, declining to be identified because details of the IPO process have not been publicly disclosed.
Typically, a deal the size of WH Group's would tap cornerstones, which receive a guaranteed allocation in exchange for agreeing to retain their stakes for a set period.
"Volatility is part of the reason," added the source.
Though Hong Kong's shares are trading at their 11-week highs, the benchmark stock index is down about 2.3 percent so far in 2014, bouncing between gains and losses of more than 7 percent along the year.
Shares of small Chinese pork producer Huisheng International Holdings Ltd have fallen 14.6 percent since their debut in Hong Kong on Feb 28. Its tiny $32 million IPO, which was swamped by a horde of mom and pop investors, was seen as one gauge for investor demand for consumer stocks.
The WH Group listing would be the world's second-biggest ever food and beverage IPO after Kraft Food Inc's $8.7 billion deal in June 2001. It would also be the largest new listing in the Asia-Pacific since AIA Group Ltd raised $20.5 billion in October 2010.
WH Group could increase the size of the IPO to $6.11 billion if underwriters exercise a greenshoe option to meet additional demand.
Pricing for the IPO is slated for April 22, with the shares making their debut on the Hong Kong stock exchange on April 30.
To draw investors to its IPO, WH Group is banking on the growth potential of Chinese demand for pork and processed meat. The takeover of Smithfield will help WH Group's Chairman and CEO Wan Long, known as China's "Chief Butcher," secure a steady supply of pork to meet the expected demand growth at home, people in the industry have said.