BEIJING - China's financial and payment institutions should not accept Bitcoin as legal tender, with Chinese authorities on Thursday warning of the risks related to the digital currency.
The warning was issued in a notice jointly released by the People's Bank of China (central bank) and four ministerial departments -- Ministry of Industry and Information Technology, China Banking Regulatory Commission, China Securities Regulatory Commission and China Insurance Regulatory Commission.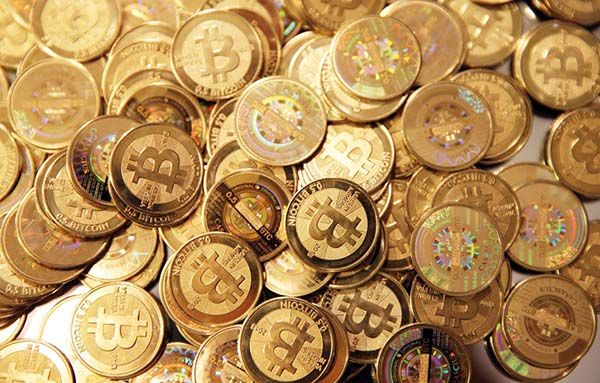 A pile of newly minted bitcoins arranged for a photograph in Sandy, Utah, in the United States. Created four years ago by a person or group using the name Satoshi Nakamoto, bitcoins are a virtual currency that can be used to buy and sell a broad range of items - from cupcakes to electronics. People can also pay with bitcoins in various coffee shops, phone and computer stores and bookstores in big Chinese cities including Beijing and Shanghai. [Provided to China Daily]
The warning is aimed at protecting the property rights of the public, safeguarding the Renminbi status as a fiat currency, preventing money laundering and maintaining financial stability in China, said the notice.
The notice said Bitcoins are not issued by any monetary authorities and does not contain the currency function of being legal tender with a government decree. It does not have the same legal status as fiat currencies, and should not be circulated in the market.
The notice, however, admitted Chinese people can make Bitcoin transactions at their own risk on the Internet.
It demanded financial and payment institutions not to price their products or services with Bitcoins, or to engage in transactions involving Bitcoins, or to accept insurances related to Bitcoins.
The notice also told Bitcoin-transaction online platforms to register at China's telecom industry regulator in accordance with laws.
The Chinese central bank will continue monitoring activities involving Bitcoins and related risks, it added.
Bitcoins, which are stored in a virtual wallet, can pass from person to person around the world in secret, allowing users to remain anonymous. It bypasses both banks and banking regulators worldwide.
The Chinese public became aware of the digital currency in April, when movie star Jet Li's One Foundation received a donation of several hundred Bitcoins to help quake-stricken Sichuan Province.
Bitcoin has seen another round of price surges worldwide this week, with the price of one Bitcoin at about 1,117 U.S. dollars on Wednesday on Mt. Gox, the world's best-known Bitcoin trading platform.
An estimated 1.8 million Bitcoins were traded in November on BTC China, an online platform with the highest Bitcoin trading volume in the world.