More going, going, gone in China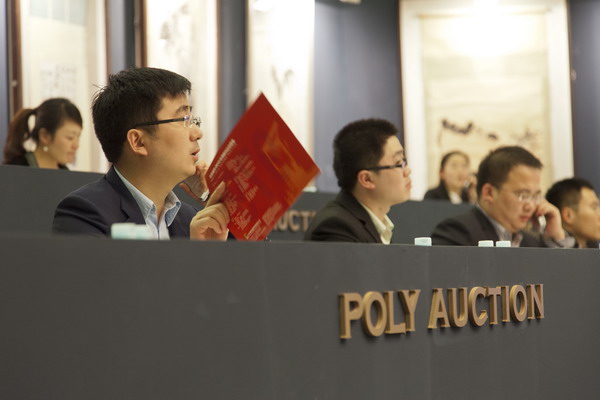 Beijing's Poly International Auction plans to hold seven auctions in Hong Kong next month, three more than last autumn. [Photo / China Daily] 
Beijing Forever Auctions, Christie's brand licensee in China since 2005, says the Chinese market is still getting used to the international business standard.
"It's not easy," says Dong Jun, general manager at Beijing Forever. "I would be glossing over the situation if I said the model suits China perfectly. People are reluctant. They might have played by the rules in Hong Kong, but they won't do that in Beijing. Not to mention those who have never been to Christie's or Sotheby's."
Christie's launched an art education program on the Chinese mainland last year, giving advice on collecting and investment, in an effort to "deepen its long-term commitment to China and Chinese art", says Francois Curiel, president of Christie's Asia.
Comparing the different approaches of Sotheby's and Christie's, Ji says Sotheby's is the riskier, but with potentially more benefits.
"Because it's an investor, not just a licenser," Ji says. "It can learn how to do business on the Chinese mainland by itself this way. It also has a better chance of turning a profit once the market opens up to foreign auctioneers."
Compared with international auction houses on the Chinese mainland, Guardian and Poly are naturally more at home in Hong Kong.
"It is easier for Poly and Guardian to make an impact in Hong Kong than it is for Sotheby's and Christie's on the Chinese mainland, because in Hong Kong everyone gets a fair chance," Ji says.
With low tax and free trade, Hong Kong provides an alternative for Chinese auction houses at a time when the Chinese mainland's tax policy on overseas artworks is still uncertain.
Both Poly and Guardian say they would prefer to sell art collected from overseas in Hong Kong, instead of Beijing.
In its first auction in Hong Kong, Guardian focused on its core categories of Chinese traditional painting and calligraphy.
"We want to take a more steady approach. No drama, just step by step," Hu says. She foresees no expect rapid expansion in the next three years.
"We are still figuring out what new sectors we could do in Hong Kong."
Poly, known for a more aggressive style, takes a different approach, focusing more on jewelry and oil painting to cater to the local market.
"We came to Hong Kong to look for overseas clients," Zhao Xu, Poly's executive director, says. "Oil painting, wristwatches and jewelry are the sectors where we saw equal numbers of Chinese and overseas customers, while Chinese antiques, calligraphy and paintings are more appealing to clients from the Chinese mainland."
About 40 percent of the buyers at Poly's last auction in Hong Kong were from outside the Chinese mainland. Zhao says he expects the number to rise to 60 percent in the near future.
Zhao estimates that Poly Auction's Hong Kong operations cost HK$ 100 million ($12.9 million; 9.9 million euros) a year and it will not go into profit until it generates HK$ 1 billion annually, which he hopes will happen after the autumn auctions.
Poly's ambition extends further than Hong Kong. It has offices in Taipei, New York, Paris and London, and Zhao says the company may consider setting up branches in those cities in a few years.
Sotheby's Ching welcomes the entry of the mainland auction houses to the Hong Kong art market and the competition they bring, confident in his company's advantages of an extensive international network, business standardization, transparency and client resource.
"They are bringing new customers to Hong Kong. As these people learn how to do business here, they might come to Poly today and to Sotheby's tomorrow."
Forty percent of Sotheby's Hong Kong bidding prices came from mainland buyers in 2011, 10 times as much as in 2004.
Sotheby's exhibitions will tour Beijing, Shanghai and Chengdu before its spring and autumn auctions in Hong Kong. Ching is interested in extending the tour to coastal cities, such as Xiamen and Hangzhou.
sunyuanqing@chinadaily.com.cn