More going, going, gone in China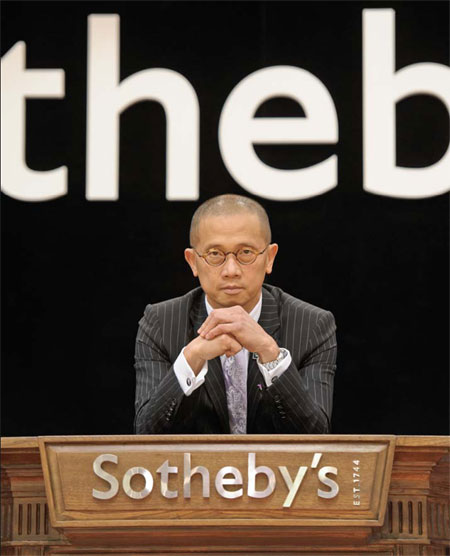 Kevin Ching of Sotheby's Asia says its main strength is still in Hong Kong. [Photo / China Daily] 
International and Chinese auction houses move on to a bigger canvas
Sales may have dropped, but China's art market is still expanding.
After their first auctions in each other's territories last autumn, Chinese mainland auction houses are looking into further possibilities in Hong Kong, while the big Western houses try to establish themselves more in the Chinese mainland.
"Even at a much slower growth rate the long term outlook for art sales in China appears promising," says Vikram Mansharamani, a lecturer at Yale University and author of the Boombustolog: Spotting Financial Bubbles Before They Burst.
Beijing's Poly International Auction plans to hold seven auctions in Hong Kong next month, three more than last autumn.
China Guardian Auctions' vice-president Hu Yanyan says the company "will devote more to exploring the market potential in Hong Kong", and is trying to connect to the local art scene by launching a new category of paintings and calligraphy by contemporary Hong Kong artists.
Meanwhile, Sotheby's plans to hold a spring auction in Beijing, probably of contemporary paintings, jewelry, watches and wine, says Kevin Ching, CEO of Sotheby's Asia. This would be Sotheby's first official auction on the Chinese mainland following a single-item sale last September.
"The scale won't be very big, as our main strength is still in Hong Kong," Ching says. "We are still familiarizing ourselves with the procedures there. The scale will grow after one or two auctions."
Sotheby's set up a joint venture with the state-owned Beijing GeHua Art Co last year. It invested $1.2 million (917,400 euros) for an 80 percent stake in the new company. Ching expects the Beijing company to break even within 12 to 18 months.
The joint venture allows Sotheby's to become the first international company to hold auctions on the Chinese mainland.
Among other restrictions, Chinese law bars foreign auction houses from selling "cultural relics" that date earlier than 1949, which form a significant part of the Chinese art market.
This could be a major obstacle for the international auction house, says Ji Tao, a veteran auctioneer in Beijing.
"Everyone was talking about Sotheby's arriving in Beijing. It was big news. But no one is really worried about it because it's not allowed to sell cultural relics," Ji says.