The mainland's oldest auction house held its first sale in Hong Kong on Sunday, underscoring intensified competition in the booming art market.
More than 300 collectors packed the auction hall at the one-day sale by China Guardian, which offered more than 300 Chinese paintings and calligraphy including works from renowned artists Zhang Daqian and Qi Baishi.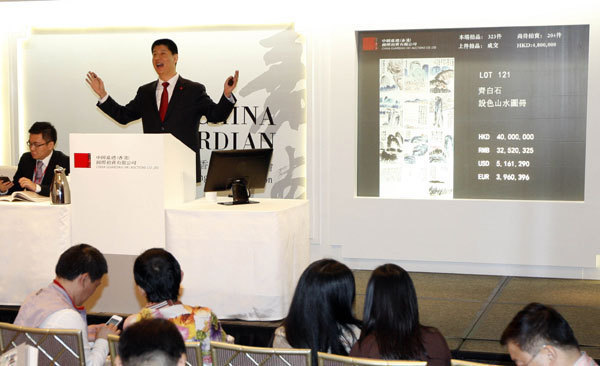 The mainland's oldest auction house, China Guardian, offers more than 300 Chinese paintings and works of calligraphy, including some from the renowned artists Zhang Daqian and Qi Baishi, at its first sale, in Hong Kong on Sunday. [Photo/ China News Service]
The sale, expected to fetch nearly $24 million, was the firm's first auction outside the mainland since it was set up in 1993.
"This is our first step to go global. We want to be a part of the global art market," said China Guardian Marketing Director Jay Sun.
"We believe there is a huge room and enormous space for the Chinese art market to develop," he said on the sidelines of the sale that drew fierce bidding from collectors in the room and by telephone.
The star lot at the auction was a 1922 landscape series from Qi painted in color inks titled Album of Mountains and Rivers, which fetched HK$46 million ($5.9 million), nearly double its pre-sale estimates.
Qi, who is now ranked the world's second highest valued artist by auction revenue, ahead of Andy Warhol and Pablo Picasso, spent seven years traveling the mountains and rivers of the country for the work.
The sale signifies Chinese auctioneers' efforts to tap into foreign markets and compete with more established European brand names like Sotheby's and Christie's, which respectively hold at least two sales annually in Hong Kong.
Mainland auction houses were almost unheard of just a decade ago but they now account for five of the world's top 10 by revenue, according to a report earlier this year by the France-based industry association Conseil des Ventes.
Their rise has been fuelled by wealthy Chinese collectors' appetite for art and antiques, and aided by regulations that restrict overseas competitors on the mainland.
But Sotheby's last month signed a deal with Beijing's GeHua Art Company to create a joint venture, in a landmark move that gives it a foothold on the mainland and overcomes the legal hurdles.