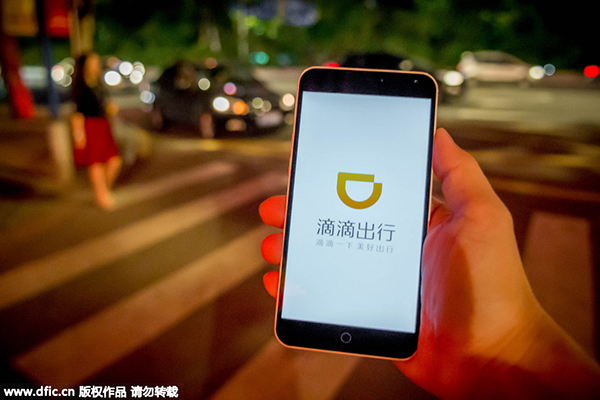 Didi Chuxing, a car-booking mobile app owned by Didi Kuaidi, is shown on a mobile phone, Sept 17, 2015. [Photo / IC]
Last year, more than 100 million people across 400 cites in China hailed 1.43 billion "taxi" rides using a mobile application, which used 14 million cars that it did not own to provide the service.
The cars were provided by individuals to Didi Chuxing, a Beijing-based ride-hailing technology firm.
This is a classic example of the so-called sharing economy, in which people rent out their idle assets like cars and rooms to others using Internet-based services.
According to the China Sharing Economy Development Report, jointly released in February by the State Information Center and the Internet Society of China, sharing economy could potentially drive economic growth as more than 500 million people are involved in a market that was worth 1.95 trillion yuan ($302 billion) in 2015.
China's GDP in 2015 was 67.7 trillion yuan. Sharing economy is expected to account for 10 percent of China's GDP by 2020, with an average annual growth rate of 40 percent.
Zhang Xinhong, director of the State Information Center, said a growing number of Chinese companies are using this new model to expand their business into various new sectors, from ride-hailing and room-renting to education and secondhand goods.
"Despite the sluggish growth of the global economy, sharing economy has been maintaining a solid and steady growth worldwide. With China's economic growth slowing, sharing economy shows great potential in terms of driving up consumption and injecting market vitality," he said.
Zhang Xiaorong, a senior analyst with the Tencent Research Institute, said sharing economy can increase supply and boost individuals' income.
"Take Tujia.com as an example. The site matches those who have spare apartments or rooms with travelers who want to rent a place for the short term. In the past, travelers had to live in hotels but now sites like Tujia can enable them to live in other people's homes. Thus, sharing can boost homeowners' income. And this novelty could spur travel and simulate consumption," he said.
According to Tencent's research, three trends will drive the development of sharing economy in China.
"The first is urbanization, which will boost the demand for services as more people live in urban areas. The second is aging population as elderly people may have more idle resources, skills and experience to share. And the third is the popularization of sharing economy," said Zhang of Tencent.
"More and more people are embracing the concept. Once they form the habit to rent rather than own something, it would be difficult to change," he said.