Auction companies from the mainland are joining the thriving Asian art trading market in Hong Kong, bringing their expertise in Chinese art and their wealthy nouveau riche clientele from the mainland. Zhang Kun reports.
China Guardian Auctions, the third largest auction house in the world, held its debut auction in Hong Kong on Oct 7. Poly Auctions, another major player in the mainland art trade, will make its inaugural sale in late November.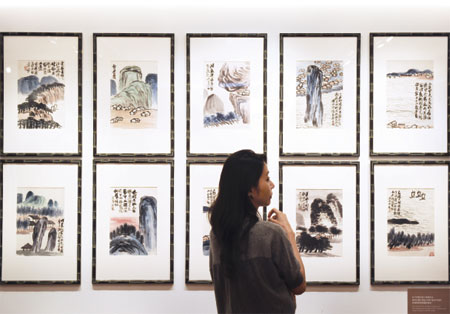 A woman inspects artwork by Chinese artist Qi Baishi entitled Landscapes during a China Guardian auction preview in Hong Kong. [Photo/Agencies]
Beijing Council International Auction Company, A&F Auction and Beijing Rongbao Auction also aim to enter Hong Kong in the next one or two years.
Poly Auctions will present about 400 pieces for its inaugural auction on Nov 23-25, all of which have been assembled from overseas, according to its Executive President Zhao Xu.
The schedule is in direct conflict with Christie's autumn sale on Nov 23-28.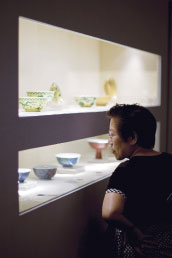 A woman views some of the ceramic pieces on display at a Christie's Spring Auction in Hong Kong. [Photo/Agencies]
Earlier in October, China Guardian scheduled its debut auction around the same time as Sotheby's autumn sale, held from Oct 5 to 9.
"Some buyers from the mainland, never before showing at any auction events in Hong Kong, appeared at Sotheby's sale," according to Qiu Jiahe, an art market analyst with Shanghai Securities News.
According to Wang Yannan, president of China Guardian, by landing its business in Hong Kong, the company wanted to "learn from the advanced international experience and operations mode, cultivate its international auction skills, and bring richer auctioned pieces and more convenient and satisfactory services to collectors worldwide."
The objective of China Guardian, however, revealed itself in its debut auction catalogue that included work by top-level modern masters such as Qi Baishi and Xu Beihong as well as ancient masters like Wang Jian.
The auction's success was especially noteworthy given the present downturn in the art market, Qiu said. China Guardian's successful inauguration has inspired colleagues on the mainland and also brought fresh blood to the market of Hong Kong, Qiu said.
According Sotheby's estimate, China's auction market in 2012 will go on dropping by about 20 percent, following last year's downturn, ultimately returning to the level of 2010. This is to say total auction sales in China - including Hong Kong and Macao - will amount to 70-80 billion yuan ($11.21-12.82 billion) in 2012.
Sotheby's auction revealed that the price for ceramics has remained stable while contemporary art has experienced a considerable downturn, according to Beijing Times which quoted art connoisseur and investment advisor Liang Xiaoxin.
Latest pieces from overseas are of great importance to China's art market, since the nearly stagnant economy and price re-adjustments have stemmed the flow of new items onto the market.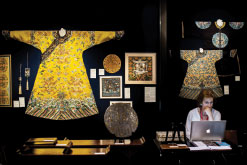 An exhibitor uses a laptop at a booth of an art fair in Kong Kong in October. [Photo/Agencies]
Some items were auctioned repeatedly - what was sold in Hong Kong during spring auctions, may re-appear at an auction in Beijing or Shanghai a few months later. It has become a bottleneck that is blocking the development of the high-end art market on the mainland, connoisseurs and critics believed.
"We've been assembling art work from foreign countries for years, and overseas Chinese collectors showed great enthusiasm to Chinese dealers," Zhao told China Daily in a telephone interview.
The strong capability to find fresh items - or "raw meat", as the industry calls it - has brought renewed confidence to Chinese auctioneers such as Poly.
"Christie's and Sotheby's have had permanent offices in North American cities such as New York, Los Angeles and Vancouver, but once we went there, about 1,000 people on average would bring their pieces to us every day," Zhao of Poly said. "They trusted dealers from China, because nowadays that's where the market is."