State of the art market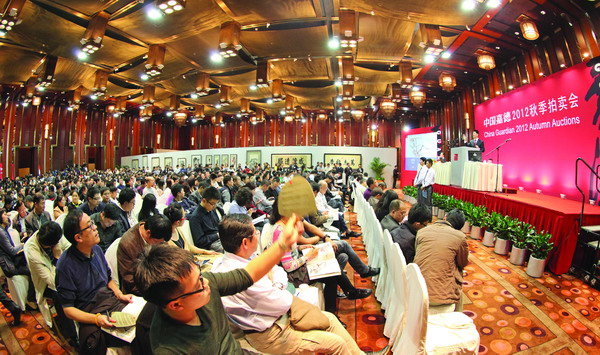 As the spring auction season looms, China Guardian says it will be looking for an increase of 10 percent on its autumn sales. [Photo / China Daily] 
China's art auctioneers search for more sophisticated ways to hammer the market back into shape
China became the world's largest art market almost two years ago due to the vast amount of Chinese artworks sought by the country's burgeoning wealthy elite. Then, having reached that peak, the market had more than a little shock art sales fell by about 40 percent last year.
However, the bigger picture facing the auction houses in China is a simple one - international markets have fared litter better, China's is still the biggest, and they are now going for quality more than quantity in sales. Everybody is becoming more discriminating in their choices.
"We used to compete over who can sell more," says Hu Yanyan, vice-president of China Guardian Auctions, the world's fourth largest auction company and China's second. "Now we are seeing who can sell the better work. The competition is just as fierce as it was in the heyday, but with a different emphasis."
Following its last spring auction, Guardian cut its offerings of Chinese ink painting and calligraphy, one of its major categories, by a quarter.
Sotheby's Asia is also focusing more on quality in its Hong Kong spring auction next month.
"We won't collect too much when the market is not strong," says CEO Kevin Ching. "We've been trying to select things that are fresh to the market and have clearer sources."
And according to auctioneer Christie's Asia president Francois Curiel, "Chinese collectors are paying more attention to the quality of art. In the end, they are only interested in works that are reasonably priced and clearly sourced."
In 2011 China overtook the US to become the largest art market worldwide, accounting for 30 percent of art auction and dealer sales, according to a report by the European Fine Art Foundation.
But the market slowed last year, particularly in China with sales down 40 percent to 614 billion yuan ($98.6 billion; 76 billion euros) according to research firm Art Market Monitor of Artron in Beijing.
Only six pieces sold for more than 100 million yuan last year, compared with 26 in 2011.
Chinese contemporary art, which had risen dramatically in sales in previous years, not surprisingly experienced the largest decline among all categories.
Sotheby's Hong Kong raised HK$2 billion ($258 million; 198 million euros) in its 2012 autumn auction, compared with HK$3.2 billion in autumn 2011, a 37.5 percent drop.
Poly International Auction in Beijing, China's leading auction house and third largest globally after Sotheby's and Christie's, took 2.31 billion yuan in its autumn auction last year, down 53 percent from 2011.
The retreat of ready money from institutional and individual investors is one of the main reasons for the decline, says Guan Yu, director and general manager of AMMA.
Don't miss
China art auctioneers eye slice of HK market
China Guardian 31st Quarterly Auction ready to go
Sotheby's Chinese JV holds inaugural auction
Sotheby's taps into Chinese mainland market
Christie's primes the pump for coming auction