4G network to lead the world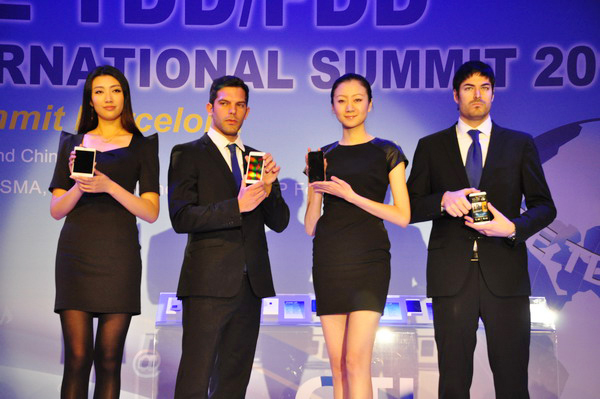 Four models of TD-LTE smartphones, developed by LG, HTC, Huawei and ZTE in cooperation with China Mobile, are displayed at the Global TD-LTE Initiative summit in Barcelona on Tuesday. [Photo / China Daily]
China Mobile set to deploy new system covering 500m people across country
China Mobile Communications Corp, the parent company of the world's largest telecom carrier by subscriber, announced on Tuesday that it plans to deploy the world's biggest 4G LTE network in China this year, covering more than half a billion people, according to the company's chairman.
In a keynote speech at the Global TD-LTE Initiative summit in Barcelona, Xi Guohua said the homegrown TD-LTE technology is gaining in popularity across the globe as the industry matures.
China Mobile will build a TD-LTE 4G network in China this year that will cover more than 100 cities, or about 500 million people, Xi said. "It will be the largest LTE network around the world."
Meanwhile, China Mobile is about to acquire more than 1 million TD-LTE terminals, including smartphones and data cards, in 2013.
"Besides high-end mobile phones (supporting TD-LTE standard), low- and mid-end mobile phones will also enter the market, providing customers with more choices," the chairman said.
Mobile phone vendors LG Electronics, HTC Corp, Huawei Technologies Co Ltd and ZTE Corp have partnered with China Mobile to launch four models of TD-LTE smartphones.
The newly unveiled handsets are all multi-mode, multi-band devices, which means customers can use one smartphone to connect different mobile networks anywhere, including networks that support the other mainstream FDD LTE 4G standard.
China Mobile for the first time released two TD-LTE terminals under its own brand on Tuesday.
The MiFi products, CM 512 and CM 510, act as mobile hotspots for TD-LTE network surfing.
"This will be a new milestone marking the diversified, large-scale development of LTE," Xi said, stressing the importance of more TD-LTE terminals entering the global market.
China Mobile is now conducting large-scale trials of TD-LTE networks in 13 major Chinese cities. The company constructed 20,000 TD-LTE base stations and expects to expand the figures by tenfold this year.
In December, China Mobile Hong Kong launched a TD-LTE commercial network. The network is not only China Mobile's first commercial TD-LTE network, but also the first LTE TDD/FDD converged commercial network in Asia.
"The commercialization of TD-LTE was dramatically accelerated in 2012," Xi said. The commercial networks and user base began to develop, he added.
Analysts expecting the Chinese government to issue 4G licenses in the second half of this year.
Miao Wei, minister of industry and information technology, said in March last year that authorities will begin approving 4G licenses in two to three years. But in September, Miao said the licenses will be ready for issue in one year.
Ji Chendong, a telecom analyst at KPMG, said: "It is very likely that more than one telecom carrier could receive a TD-LTE 4G license," adding that he doubts China Telecom Corp Ltd, the nation's smallest mobile operator, will also get government's approval to offer a TD-LTE service.
He Shiyou, executive vice-president of ZTE, expressed a more optimistic view.
"I think all three Chinese telecom carriers can get the TD-LTE 4G licenses because the rich TD-LTE spectrum resources in China allow the government to do so," he said.
Worldwide, there were 14 TD-LTE commercial networks deployed as of February, providing services for millions of consumers, according to statistics from GTI.
Capable chipsets and mobile phones that support the TD-LTE standard can play an active role in promoting industry development, analysts said.
Currently, 10 chipset vendors have launched TD-LTE terminal chipsets. Most of them support multiple telecommunications standards, including FDD LTE, 3G WCDMA and even TD-SCDMA, Xi added.
TD-SCDMA is a homegrown 3G standard initiated by China Mobile.
According to the Global Mobile Suppliers Association, 125 TD-LTE terminals were launched by January. In markets such as Japan and India, the first batch of TD-LTE smartphones has already been put into daily use.
shenjingting@chinadaily.com.cn