Wireless data traffic surges
China Mobile network twice as busy as during last year's Spring Festival
Chinese spent more time surfing the Internet on mobile phones and using diversified mobile applications during this year's Spring Festival than during the holiday in 2012.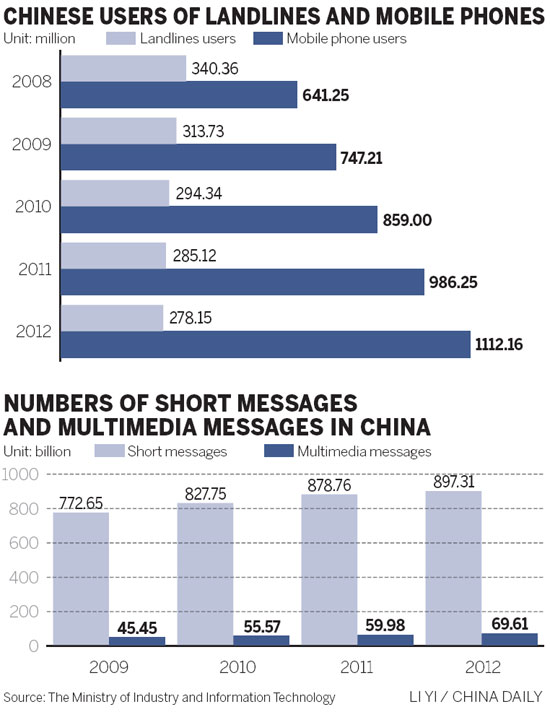 During the seven-day holiday from Feb 9 to 15, wireless data traffic on China Mobile Ltd's mobile network was more than double that during the holiday last year, according to the company.
Xiang Ligang, a Beijing-based telecom industry analyst, said this indicated that more people were using mobile Internet applications, such as music, games and instant-messaging services. "The widespread adoption of smartphones in China has led to a growth in wireless data traffic," Xiang said.
WeChat, an instant messaging tool developed by China's largest Internet company Tencent Holdings Ltd, has attracted many users, who can send text and voice messages and photos free of charge. WeChat, launched in January 2011, now has around 300 million users.
Meanwhile, statistics from China Mobile suggest the growth of short message services has reached a plateau.
Around 24.3 billion text messages were sent by China Mobile subscribers during the holiday this year, up just 2.5 percent on Spring Festival in 2012.
Short message services were launched in China in 2000. But after a decade of development, the service has passed its golden age of development and entered a flat period.
Short message services also face a severe challenge from rival mobile applications, such as WeChat and micro blog services.
From 2000 to 2008, text messages on China Mobile's network rose from 500 million to 607 billion. However, this growth has slowed dramatically in recent years.
China Mobile's revenues from its short message service fell to 46.5 billion yuan ($7.3 billion) in 2011 from a peak of 53.6 billion yuan in 2009.
Shen Hongqun, deputy manager of China Mobile's data business department, said that wireless data traffic had replaced short message services to become the biggest revenue source for China Mobile's data business since last year.
The number of text messages sent in China in 2012 grew only 2.1 percent year-on-year, the slowest rate in four years, according to the Ministry of Industry and Information Technology.
A total of 897.3 billion text messages were sent via mobile phones in China last year, the ministry said. In contrast, the total number of mobile phone users in China increased 12.8 percent year-on-year to 1.1 billion by December.
"The rapid growth of wireless data traffic and the slower development of short message services will continue. The situation is changing telecom carriers' revenue structure and requires them to adapt to the new situation," Xiang added.
shenjingting@chinadaily.com.cn