Hotels feel the pinch as banquet business slumps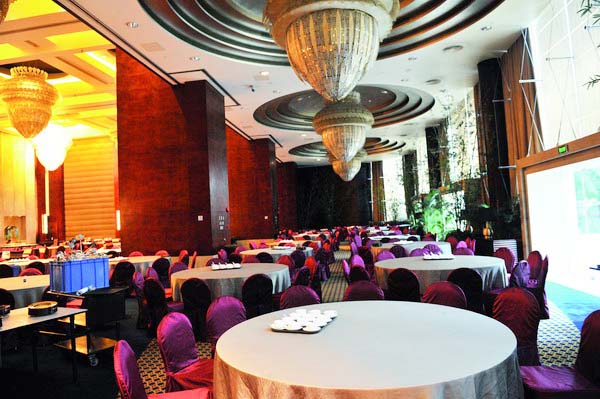 A banquet room at a five-star hotel in Guangzhou, Guangdong province. [Photo / China Daily] 
Banquet divisions in some luxury hotels are looking for new clients because of a sharp drop in bookings ahead of Spring Festival, the peak season for the industry.
The fall in bookings follows moves announced by the central government last month to combat extravagance and corruption.
"All banquet bookings at our hotel have been canceled," said a staff member from the banquet division at the Beijing Friendship Hotel, a hotel designated for government conferences.
He said the hotel catered for at least two or three banquets a week during peak season in the past, but the number has fallen to zero this year.
Clients - mainly government departments and State-owned enterprises - canceled their bookings in response to the new government regulations. It had been tradition for government departments to hold annual "greeting meetings" in high-end hotels before Spring Festival.
The Beijing Friendship Hotel spokesman said: "The cancellations are too sudden and we do not have a way to make up the losses yet. My team is trying its best to look for other clients."
A five-star hotel in Hangzhou, Zhejiang province, said it received 10 banquet cancellations before Spring Festival, as a result of the new regulations, and many clients had also decided to cut back on greetings events for the holiday.
"The loss is sizable," the hotel's manager, who declined to be identified, told China Daily.
However, although hotels have been hit hard, some business insiders have welcomed the changes.
"Business is not as good as last year definitely, but it means the industry is going back to a real commercial business," said Song Guojing, general manager of Beijing Hot Spring Leisure City, a hot spring resort.
Don't miss
Festival touchstone for China's frugality drive
China orders police to cut banquets
Govt departments cancel banquet bookings in Zhejiang
China orders no extravagance during holidays
Dinner ban takes toll on liquor firms