A symbiotic relationship between a well-known city and a nearby village has fostered nearly 2,000 e-commerce businesses in just a few years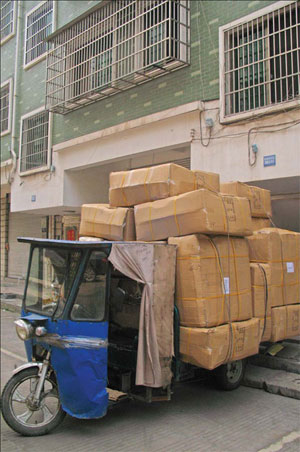 Big boxes ready to be delivered. [Lin Jing / China Daily]
The story of Qingyanliu is not your simple rags-to-riches tale of how a Chinese village sped down the fast lane to economic success. It is a multifaceted story about collaboration and vision, of hard work and patience. More specifically, it is about how a neighboring city of booming trade markets helped a village smaller than one-third square kilometer to become one of the hottest incubators of e-commerce in Zhejiang province.
Qingyanliu is a village about 3 kilometers southeast of Yiwu, a city known for its thriving small commodities markets and as the banner for China's market economy. There is a saying that in the city "you can find all the commodities you want, as long as you can imagine it."
That proximity of city and village is not just simply a convenience for business owners looking for cheap rent in Qingyanliu or for products from Yiwu to funnel into the village. It has also greatly helped the village grow into what many Chinese media are now calling the "Taobao Village".
Taobao is China's most popular online marketplace.
In 2005, with manufacturing and an industry chain skyrocketing in Yiwu, the village committee decided to develop Qingyanliu, which had only 1,500 farmers a year earlier, as an area to establish the fertile industry of e-commerce.
"What we provide in Qingyanliu is a benign environment for e-commerce startups," says Liu Wengao, vice-chairman of Yiwu Jiangdong Electronics Commerce Association, who has been in charge of developing e-commerce in the village since 2005.
Almost immediately, the village was bursting at the seams, with near constant construction of new homes and office space for business owners. In that year alone, the village added about 200,000 square meters of housing for rent.
YJECA provided some capital and know-how for new businesspeople to set up shop. It also provided training sessions for newbie online store operators and invited established shop owners on Taobao to talk about their experiences. Weekly meetings were held every Saturday afternoon, mainly to discuss sales techniques and let everyone know what was happening in the growing industry.
Wang Hao chose Qingyanliu as the site for his e-commerce shop only last year, but he understands why it grew so rapidly. A former restaurant owner in Liaoning province in northeastern China, he learned about the village on the Internet and came for a look in April last year.
Two months later, he rented two 100-sq-m rooms.
"It was good for us to start our business here because it is convenient for deliveries (from Yiwu) and we can buy goods cheaply," says Wang, owner of Xinhao Accessories, one of thousands of shops on Taobao. "You can find whatever you want to sell in Yiwu at the lowest price in China. It's convenient and reduces costs. Newcomers cannot get a good price from factories directly because they lack credibility in the market. And the delivery fees are quite high."
Liu of YJECA also organized a few distributors to form an online supermarket that provided pictures of products. New businesspeople in the village then choose pictures from the supermarket and upload them to their Taobao shops. Every day, these new shops can receive goods from distributors based on sales needs.
Today, about 2,000 companies in Qingyanliu tout 1.7 million products. The value of sales was about 800 million yuan ($126 million; 100 million euros) last year. Market floor space covers 4.7 million square meters
Every day, about 30 express delivery companies send about 10,000 parcels to cities across the country. Another advantage of setting up shop in the village is that YJECA negotiates with express delivery companies on behalf of e-commerce shops for special rates.
But one major drawback to the boom is the soaring rent. The annual rent for an 80-sq-m apartment jumped from 7,000 yuan to almost 15,000 yuan from 2005 to 2012. Total income from rent in the village is now about 30 million yuan a year.
Wang, for instance, has seen his business prosper. His initial investment of 160,000 yuan, with 33,000 yuan in annual rent, turned into sales of over 800,000 yuan last year. This year, he says, he reached that sales figure in July.
Yiwu has clearly benefited from this symbiosis. By June, 11,000 business-to-business sellers populated Yiwu, a 20-percent increase from the same period last year. About 350,000 parcels were delivered every day, up 70 percent.
Last year, total sales in e-commerce reached 50 billion yuan in Yiwu, and the number of online stores grew from hundreds four years ago to more than 60,000. Among them, 1,100 stores have monthly sales of over 100,000 yuan.
Many domestic companies in the region that were originally physical establishments are jumping on the e-commerce bandwagon.