China will lower the tariffs on 784 imported products starting from January as part of a major effort to boost domestic consumption, the Ministry of Finance said on Monday.
The temporary adjustment will allow the products, grouped into five major categories, to be imported on a tax rate that is lower than the most-favored-nation tariff, according to a statement on the ministry's website.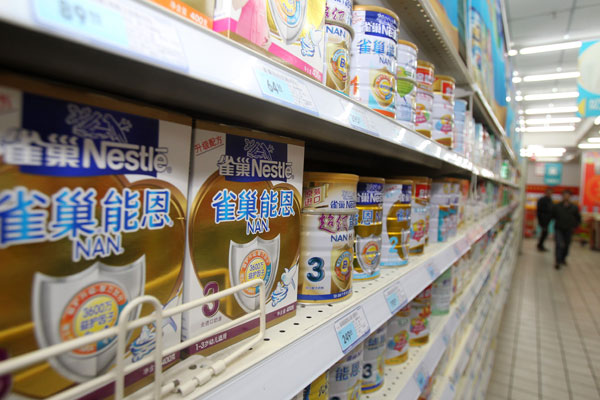 Imported infant milk powder is among the list of items set to see lower tariffs starting from January as part of a major effort to boost domestic consumption. [Photo / Provided to China Daily] 
The new rates will take effect on Jan 1.
Lower tariffs on products closely related to people's livelihoods, including infant milk powder, have been much attention.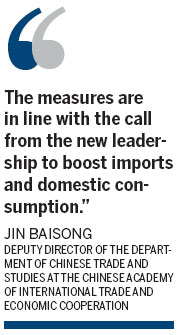 Tariffs will also be lowered on raw materials and spare parts for the equipment manufacturing industry and strategic emerging industries, such as robots used for automobile production.
Resource products as well as energy-saving and emission-reduction products will also benefit from lower rates.
Products that support the development of the agriculture and textile industry are also included on the list.
The measure aims to boost imports and meet an increasing demand from domestic consumers, the ministry said.
"The measures are in line with the call of the new leadership to boost imports and domestic consumption," said Jin Baisong, deputy director of the Department of Chinese Trade and Studies at the Chinese Academy of International Trade and Economic Cooperation, a think tank of the Ministry of Commerce.
He said the lower tariffs will boost sales from consumer products such as milk powder and healthcare equipment.
"In the meantime, imports of high-tech equipment will facilitate the technical upgrade of domestic enterprises and pave the way for an economic transformation," he said.
He Weiwen, a professor with the University of International Business and Economics, recognized the measures could be positive but the desired effect is far from guaranteed.
"The major obstacle for domestic consumption remains the high cost of distribution. Thus lowering that cost should be a main priority if the government is aiming to boost domestic consumption," he said.
Jin also said that apart from lowering tariffs, measures should be adopted to achieve long-term prosperity, including pushing forward income distribution reform, encouraging technical innovation and protecting intellectual property.
Zhang Jianping, a researcher with the Institute of International Economic Research at National Development and Reform Commission, China's top economic planner, said traditional sectors such as agriculture and textiles are key to social stability, so it's also necessary to lower import tariffs to boost development in these sectors.
The Finance Ministry also said it will extend the temporary lower tariff rates for some export products, including coal, crude oil, fertilizer and ferroalloy. The levies on fertilizer will move from price- to volume-based.
Fu Peng, a macroeconomic analyst with Galaxy Futures, said lower export tariffs were mainly aimed at stimulating exports of products with an overcapacity in the domestic market.
The domestic demand of these products is expected to remain flat in the following years.
Meanwhile, the switch in the tax base for fertilizer products is mainly meant to avoid changes in tariff revenue on these products because of price fluctuations, said Zhang Jianping of the Institute of International Economic Research.
After the adjustment, the items of import-export tariffs will increase to 8,238 from 8,194 in 2012.
weitian@chinadaily.com.cn