Wealthy Chinese people's preferences for luxury goods have changed, the 2012 Luxury Report shows.
Compound annual growth rates from 2006 to 2011 for imported yachts, wine, bags, cars and high-end watches are positive, while those for cosmetics, perfume, art collections, furniture, jewelry, clothes and accessories and private jets are negative.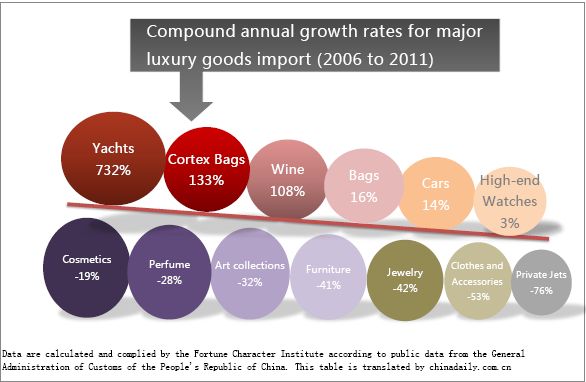 Yachts imports amounted to $1.88 million in 2006 and $93.83 million in 2011, increasing at a compound annual growth rate of 732 percent, said Zhou Ting, lead author of the 2012 Luxury Report. Zhou is the head of the Fortune Character Institute which published the report this month.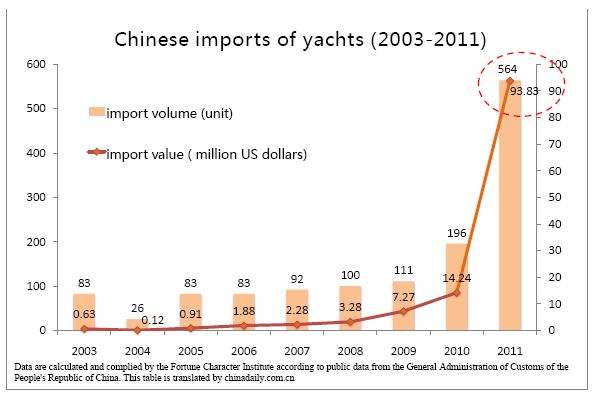 Bag import values have grown at a compound annual growth rate of 16 percent over the five years.
Among bags, cortex ones have quickly become popular, with a growth rate of 133 percent. China's import of cortex bags in 2006 was only $31 million, while the value surged to $514 million in 2011.
However, not all luxury goods imports have grown fast, and some have even declined.
China's import of private jets in 2006 amounted to $9,801.6 million and that for 2011 was only $11,649.3 million, with an annual growth rate of negative 76 percent, according to the report.