Luxury brands are thriving, but they need to change tack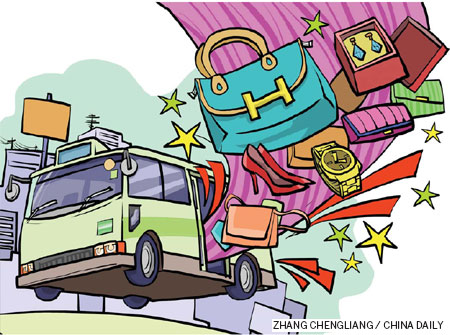 New markets in China are waiting to be exploited
With the backdrop of a sluggish global economy and saturated demand in developed markets, the affluent among China's 1.3 billion people have become critical to global luxury brands as their spending continues to increase in China.
Louis Vuitton has opened 41 shops in 29 Chinese cities, Hermes has opened 20, and Gucci has opened 39, and more shops continue to spring up. The shops are concentrated in first-tier cities such as Beijing, Shanghai, Guangzhou and Shenzhen, and almost all of them cover more than 500 square meters. In fact the shops Louis Vuitton and Gucci have opened over the past two years each cover more than 1,000 square meters, including Louis Vuitton stores of more than 2,000 square meters each that opened in Shenyang and Shanghai recently. Huge investments in these large stores reflect the confidence these luxury brands have in China and its tremendous growth potential.
More importantly, there is a hidden message: the luxury brands in China have got almost the whole first-tier city market covered, and now the pressing task for the industry's leaders is to fully exploit the potential of second and third-tier cities.
Compared with first-tier cities, the second and third-tier ones have broader potential. There are more than 300 prefecture-level cities and more than 2,000 county-level cities, and 80 percent of China's population and more than 70 percent of the rich live in second and third-tier cities. In short, luxury brands that restrict themselves to first-tier cities stand to lose many sales opportunities.
New, localized products and services launched every season will obviously better reflect local habits and tastes, generating higher sales.
In-depth and high frequency product promotion and service will enable these luxury brands to cultivate customer bases in the second and third-tier cities that are more loyal than in the first-tier cities.
However, it is difficult for luxury brands to extend their existing sales channels to second and third-tier cities because of their limited sales potential, and because of the large financial outlay needed to maintain such large sales spaces.
Building sales channels for luxury goods in China's secondary markets is perhaps best begun by setting up networks of shops with Chinese characteristics. That could be done relatively cheaply, keeping profits high, if construction and running costs were kept to a minimum, while at the same time maintaining brand image.
The wealthy can be particularly demanding when they buy goods, making the task of sifting through dozens of luxury shops in second and third-tier cities to find what they want all the more arduous. More sales professionals are needed to give them a more personalized service as they buy goods such as clothing, accessories, jewelry, watches and wine. They would no doubt prefer to see a selection of the latest season's products from multiple brands on display in one shop, something that does not exist in the highly competitive Chinese market.
A buyers' shop is a collection of luxury brands whose owner and sales people must have impeccable credentials in clothing and fashion sense, giving their customers advice based on combining different brands of clothes, accessories, jewelry, purses, shoes and watches. Such shops are an important part of luxury brand sales channels in Europe. Over several decades they have developed into a highly stable sales network.
Such shops, generally covering at least 500 square meters and sometimes more than double that, are good at promoting brand image and reducing costs for setting up single-brand counters.
Buyers' shops take on most of the store rent, decor, staffing, and inventory costs, leaving luxury brands more time and money for branding, maintaining the image of their flagship stores, management and marketing. Buyers shops often pay a deposit six months in advance, making full payment on delivery, giving the luxury brands good cash flow and keeping down their stock on hand.
Buyers' shops are also faster and more efficient in expanding compared with brand building sales channels left to their own devices. Such shops are often a combination of the strength and resources of many partners in which luxury brands can choose different partners in different cities appropriate to local conditions.
Besides offering a more localized customer service, buyers' shops are able to provide luxury brands with more accurate customer feedback. Compared with the vertical management in the luxury brands' own shops, this system of feedback is more timely and effective, allowing business strategy to change and more popular products to be developed.
Upmarket consumption in China's second and third-tier cities has just begun, and a network of buyers' shops along European lines is still a way off. Although similar services already exist in some cities, the product quality and purchase channels are not guaranteed, and they are relatively unknown and remain business lightweights. Luxury buyers' shops rely heavily on image, good management, product displays, business reputation, staffing and customer service, and transforming existing shops to this format is risky.
Luxury brands that want to expand through buyers' shops need to pay careful attention to the potential partner's credibility, strength, sales experience, client resources and service capabilities. That having been said, choosing a partner and training it should not be all that difficult.
There are plenty of potential partners to choose from. Upmarket department stores such as Lane Crawford and Maison Mode - which understand the rules of luxury operations - big clothes agents in provincial capitals, which often handle a dozen well-known domestic brands in local markets and even own more than 100 shops, and powerful local retailers and investors can all be trained to be partners.
Luxury brands must not only manage the buyers' shops efficiently, taking into account local market demand, but must also be highly innovative in the way they go about their business.
Products and services need to be changed according to demand, and improving customer satisfaction and increasing their loyalty has to be a priority.
In these cities they need to pay particular attention to monitoring service at the point of sale and after, including effective systems for gathering and collating feedback and keeping an eye on customer satisfaction.
They also need to improve service standards, particularly in after-sales service, which is the key to building brand loyalty. Services for watches and jewelry are particularly important in this regard.
Smaller brands could invite European specialists to help them set up management operations in various cities, in a cost-effective way.
The author is director of Beijing Vogue Glamour Brand Marketing Inc, a brand consultancy. The views do not necessarily reflect those of China Daily. Contact the writer at voguead@163.com