Wang said Lenovo in 2009 became the first PC company to classify countries into two categories: emerging markets, such as China, India and Brazil, and mature markets, such as the United States and Japan. Lenovo then developed a different strategy for each. Such a strategy has now been widely adopted among multinational IT companies.
The main reason the company is the top PC seller is its strategy of penetrating into lower-tier cities in China and emerging markets, Wang said.
About six years ago, Lenovo started selling more of its products in China's rural areas, a step that Wang believes will contribute to the company's development in the next five years.
In China, Lenovo has a 34-percent share of the PC market, up 2.4 percentage points year-on-year, and shipments increased 8 percent year-on-year in the second quarter of 2012, according to a company statement.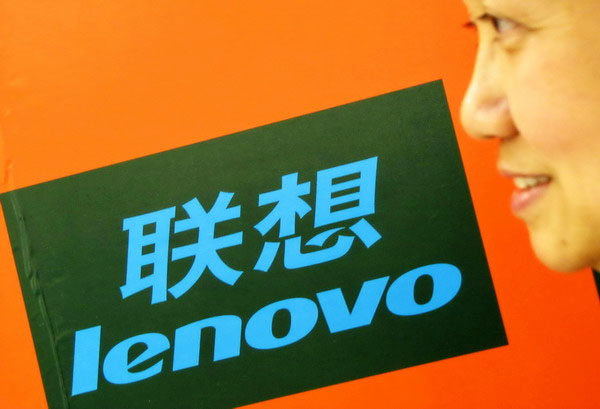 File photo of a Lenovo logo in Shanghai. [Jing Wei/Asianewsphoto]
In other emerging markets, Lenovo surpassed Dell and HP earlier this year to occupy the top spot in India and announced a few weeks ago that it would cooperate with a company in Brazil to expand its presence there.
Meanwhile, Lenovo has become the top PC shipper in India and is aggressively expanding in Latin American countries with factories in Brazil and Mexico.
While some Chinese IT industry players have tumbled in overseas M&As, Lenovo has witnessed enormous success from its overseas deals.
In 2005, Lenovo acquired IBM's PC business for $1.25 billion, and it also shouldered $500 million of the latter's debt. The takeover provided the company with American know-how to expand globally. By making Lenovo the third largest PC producer worldwide, the acquisition gave Lenovo's PC business a boost.
"We benefited in three ways from the IBM acquisition," said Liu Chuanzhi, former board chairman of Lenovo, in an interview with China Central Television, the country's national TV station. "We got the ThinkPad brand, IBM's more advanced PC manufacturing technology and the company's international resources, such as its global sales channels and operation teams. These three elements have shored up our sales revenue in the past several years."
In August 2012, Lenovo signed an agreement with the US-based data-management company EMC Corp to develop and sell server and storage technologies.
In September 2012, Lenovo delved into software development after buying the US-based cloud-computing company Stoneware Inc for an undisclosed amount. Stoneware has millions of users in the educational field and the US public sector.
The same month, Lenovo agreed to buy the Brazilian consumer electronics maker CCE in a cash-and-shares-deal worth about 300 million Brazilian reals ($147 million). The purchase of CCE, Brazil's largest domestic maker of electronics, will allow Lenovo to more than double its share of the PC market in the world's sixth largest economy - from 3.7 percent to 8 percent - and diversify its product portfolio from single PCs to other electronic products such as tablet PCs and smart phones.
The deal will also add mobile phones and televisions to its product line in Brazil, where it recently announced plans to build a factory at a cost of $30 million.
Lenovo will continue to make acquisitions to boost its growth in global markets, said Lenovo's Chairman Yang.