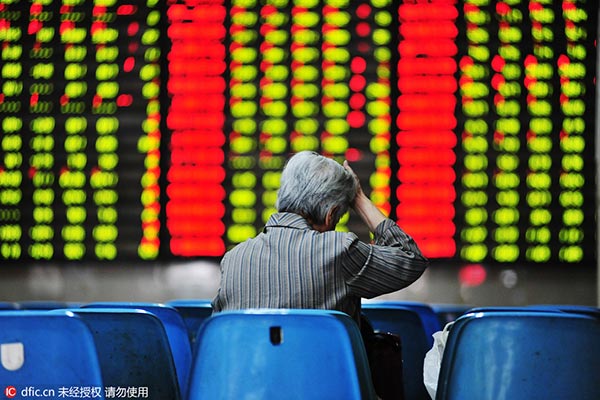 An investor looks at an electronic board showing stock information at a brokerage house in Nanjing, Jiangsu province.[Photo/IC]
Large shareholders of a number of companies listed in Shanghai and Shenzhen have been reducing their holdings since the beginning of May, according to disclosures to the bourses concerned.
Market observers said this paring of holdings may dent small investors' confidence and hurt prices of the stocks concerned.
In the first seven trading days this month, large shareholders sold 543 million shares worth 14.02 billion yuan ($2.13 billion) in various companies, according to the China Securities Journal.
This almost matched similar selling through all of May, which saw big shareholders' sales of 435 million shares worth 14.43 billion yuan.
Each large shareholder holds more than five percent in a company's stock.
According to the Journal, 45 companies, through 52 filings, disclosed large shareholders' plans to sell 1.216 billion shares worth 29.14 billion yuan or $4.43 billion.
They will sell these shares gradually in three months to a year as per regulations. A big shareholder is required to disclose any substantial paring of its holding and complete such sales within a given timeframe.
Since the beginning of May, big shareholders in nine companies listed in Shanghai and Shenzhen disclosed that they are going to sell all their holdings. Among them, three firms will see big shareholders selling shares worth more than 1 billion yuan within 12 months.
Many of the companies that are seeing selling by large shareholders are small- to medium-cap enterprises in emerging sectors such as biochemicals and high-tech.
For instance, Shanghai Hile Bio-Pharmaceutical Co Ltd, a drugmaker, has seen heavy selling in their counters.
On May 3, the first trading day of the month, shares in Hile Bio-Pharma closed at 42.97 yuan in Shanghai. But by June 1, they fell to 16.37 yuan. They closed at 15.22 yuan on Friday, marking a 65 percent decline since May 3.
Although the meltdown is attributable to the automatic price shrinkage due to the company's 13-for-10 stock split on May 4, the large shareholders' selling is also believed to be a major factor.
A research note from Ping An Securities said quite a number of companies in emerging sectors listed recently, suggesting that large shareholders may be exiting to secure their gains.
Citing filings, analysts attributed the selloff to big shareholders' desire to stay liquid.
A research note from Chang Xin Asset Management said recent paring of holdings had a limited impact on the A-share market so far, given the small size of sales relative to the whole market. But small investors holding shares in these stocks may feel the pinch due to falls in prices.
Zhang Shaofen, 56, a Shanghai-based small investor, said it is understandable if big shareholders like institutional investors reduce their holdings to boost their liquidity. But, if individuals such as company founders or senior executives, or their family members, are behind such sales, it could mean they are cashing out or eager to get rid of the company's shares for some reason.
"Usually, individual large shareholders have close knowledge of a company's profitability, operations and financial situation. If such individuals sell shares in bulk deals, small investors may interpret the move as a sign of erosion of confidence in the company's future."
But brokerages said block deals do not necessarily mean big shareholders are giving up on the company or that they are cashing out or exiting for good.
A research note from Guangfa Securities said some block deals could well be in anticipation of possible mergers and acquisitions. M&A activity usually stands a better chance of success when the equity structure is clear and simple.