Lenovo has overtaken HP to become the world's top computer maker, but the company has even greater ambitions
China's personal computer manufacturer Lenovo Group Ltd overtook US-based Hewlett-Packard Corp, or HP, in the third quarter to become the largest seller of personal computers in the world measured by shipments, said the IT research company Gartner Inc in October.
According to the internationally recognized research firm, Lenovo accounted for 15.7 percent of all PC shipments in the third quarter, while HP held 15.5 percent. Another US-based PC maker, Dell Corp, controlled about 10.5 percent of the market during the period.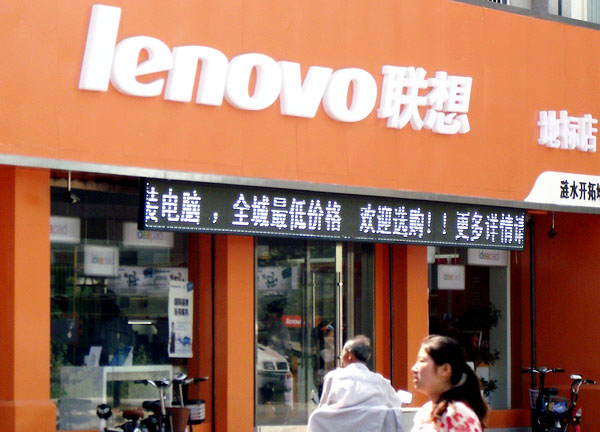 File photo of citizens passing by a
chain store
of Lenovo Group Ltd in Huai'an,
Jiangsu
province. The Chinese personal computer manufacturer has overtook US-based Hewlett-Packard Corp, or HP, in the third quarter to become the largest PC seller in the world measured by shipments. [Zhen Huai/Asianewsphoto]
Yang Yuanqing, Lenovo Chairman and CEO, said Lenovo would not become complacent.
"Although competition has been fierce in the PC market, I firmly believe there is still room for continuous profit growth," Yang said at a news conference on Lenovo's quarterly financial results held in Beijing on Nov 8. "Becoming a leading enterprise in the PC market is just a milestone in Lenovo's development, as it is also looking to become a leader in other markets."
Lenovo's success is attributed to its long-term focus on emerging markets and successful overseas M&As. Facing a low profit margin in the PC business and fierce competition from tablet PCs and smart phones, the company is embarking on plans to diversify its businesses.
Reasons for success
HP stood atop the rankings as the world's biggest PC maker for the past six years, but its market share loss came amid upheavals in its management and changes in its business plans. At one point, the company had considered spinning off its PC unit, a proposal that was later abandoned by Meg Whitman, HP CEO.
The company has also been hit hard by the world's economic malaise and a shift among customers away from older types of computers toward mobile tablet devices.
Despite a gloomy outlook for PCs, Lenovo's net profit from April to September totaled $303 million, up 20 percent year-on-year. During the same period, its sales revenue amounted to $16.68 billion, up 22 percent, according to Lenovo's quarterly financial statement. PC sales of the company surged 17 percent while those of the whole world shrank by 5 percent.
Lenovo defied the odds because of some of its acquisitions and relatively high exposure to emerging markets, which are outperforming developed markets in sales, Brent Bracelin, an analyst at Pacific Crest Securities Inc, told China Daily.
In the past, Lenovo learned from HP, IBM and other Western IT companies, Wang Jiping, a senior analyst from the US-based research firm International Data Corp, told China Daily.
Lenovo started to develop its own sales and operations model in 2004 and then acquired IBM's PC division in 2005. Now its business model and strategy have spread to global markets.