In comparison with its sizzling debut as a mobile game, the opening of the first Angry Birds retail outlet in China was more of a damp squib.
Its producer, Rovio Entertainment Ltd, announced an ambitious target of a billion fans for the popular game via brick-and-mortar stores but sales have not been as encouraging as the Finnish company expected, at least in the first three weeks following the grand opening in July.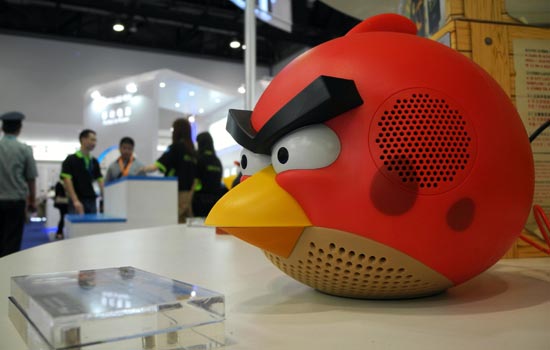 An Angry Bird-shaped electronic device on show at the Macworld Asia 2012 expo in Beijing. Its producer, Rovio Entertainment Ltd, set an ambitious target of a billion fans for the popular game via its Shanghai-based brick-and-mortar store, but sales have not been as encouraging as the Finnish company expected. [Photo/China Daily] 
On the underground floor of the Grand Gateway mall in one of Shanghai's central business districts, Xujiahui, a small group of high school girls walked into a three-dimensional version of the virtual world.
As well as colorful soft toys such as red birds and green pigs, the store sells a wide variety of Angry Birds merchandise including iPhone cases, shirts, bags, toys and, of course, games.
However, the girls decided to leave after just five minutes. No other customer was inside the shop before they entered.
"Those products are not cheap at all, especially when you compare them with the price online," said Pan Yankai, a 16-year-old who used to play the game a lot.
And by "online", she was not referring to Rovio's official e-store on Tmall.com, the country's most influential business-to-customer site, but the pirated spin-offs flooding other websites.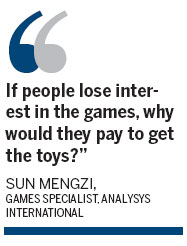 It is true. An Angry Birds-themed T-shirt costs 259 yuan ($40) in the store and an iPhone case sells for 138 yuan. Fakes can be bought through unauthorized channels at a fifth to one-third of the price of authentic ones.
Peter Vesterbacka, the company's global chief marketing officer, has declined to reveal the sales figures of online stores and brick-and-mortar shops. But he said the Shanghai store marks the first in a chain of 25 scheduled to open in the country by the end of this year.
The company showed its commitment to China by establishing its first overseas operation in Shanghai, where the research, marketing and sales of Angry Birds-related products is conducted.
"We are delighted to be fully operational in China. China has great potential for growth but just as exciting is the opportunity to build a creative franchise, a marriage of virtual and real life, that is special for China and exciting for our Chinese fans," Vesterbacka told China Daily.
Before the store opened, the first official apparel to go on sale in China was a line of Angry Birds shoes, sold on Letao.com, an online retailer exclusively selling footwear.
To further penetrate the market that has helped to drive the company's thriving growth, the firm outlined a series of China-related business plans in June that also include opening activity parks.
According to Vesterbacka, two Angry Birds activity parks will be established in the coming autumn. One will be in Haining, Zhejiang province, and the other, smaller in scale, will be in the Sino-Finnish Center at Tongji University in Shanghai.
Rovio's sales jumped 10-fold to around $100 million last year as gamers flocked to download its titles. Consumer products, which include merchandising and licensing, generated around 30 percent of its revenues.
Rovio has to deal with rampant intellectual property violations and sales of counterfeit merchandise.
Paul Chen, the company's China head, believed their strong brand presence in China would make it easier for buyers to get authorized products. He expected revenue in China to triple in 2012, thanks to booming licensing income.
But market observers had their doubts about the ambitious plan.
"In a largely cost-conscious market, many users just want birds that look like those in the games, no matter whether they are authentic or not," said Sun Mengzi, a games specialist with IT consultancy Analysys International.
Sun said Rovio's moves have indicated how closely it is following in the footsteps of The Walt Disney Co, by creating memorable animated characters and a profitable product line.
"Because users don't spend a lot of time on casual games, it is important to transform their current success into long-standing, physical figures that you can reach in your everyday life," Sun said.
But there are two sides to the coin. While the bird-slinging game gained popularity because of its simplicity and the little time commitment it required, it is not easy to maintain "stickiness" of use.
That would put a dent in the sales of spin-offs in the long run. "If people lose interest in the games, why would they pay to get the toys?" Sun asked.
hewei@chinadaily.com.cn