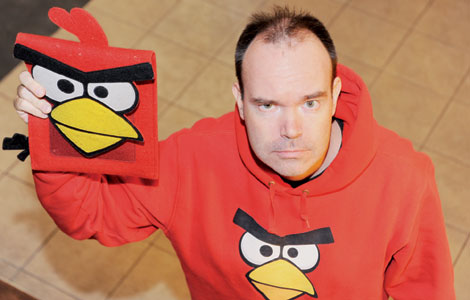 Holding an Angry Birds product while attending a meeting in Hangzhou, East China's Zhejiang province, this month, Peter Vesterbacka, the co-founder of Rovio, said China has become the second-largest market for Rovio in recent years. [Photo / China Daily] 
Finland-based Rovio Entertainment Ltd, the maker of the popular game Angry Birds, said it would expand its value-added chain to capture more business opportunities in China.
Peter Vesterbacka, the co-founder of Rovio, said the company plans to build activity parks around China in the next few years as part of its global strategy and will also set up official stores in large cities for people to buy licensed Angry Birds products.
Angry Birds launched its first activity park in Finland in April. Activity park manufacturer Lappset Group was assigned to work on the new projects in China.
Vesterbacka said the activity parks would be different from traditional theme parks. The idea is to try to make people actively engaged in the game.
"The activity parks are not like theme parks where people stand for two hours and ride for 10 minutes," said Vesterbacka. "We want our fans to be part of the game."
The parks will come in different sizes and formats and might become the neighborhood park within people's walking distance.
"It is very important to understand that our plan is not to build those massive theme parks. We will have many activity parks around cities in China," added Vesterbacka.
However, the company did not reveal exactly when and where the first activity park will be opened in China. Vesterbacka, who attended the Eighth China International Cartoon and Animation Festival in Hangzhou in April, said he is confident there will be several parks up and running during the year after he has met with relevant parties.
"China is an extremely important market for us. It is a fast-growing market," said Vesterbacka.
China has become the second-largest market for Rovio in recent years. Vesterbacka said the company achieved triple digital growth since it entered the Chinese market. He did not reveal exact figures.
Eyeing the increasing demand in the Chinese market, the company opened its first overseas office in Shanghai last year.
The company said the move will help it gain a big share in the feature phone (mobile devices that do not use an advanced operating system) sector and establish a solid foundation for further acquisitions.
Apart from operating activity parks in China, Rovio also plans to explore the consumer market in China to boost sales growth. The company emphasized it is interested in all areas related to entertainment. It has made a success in books, video, animation and the wider consumer market.
"We are active in all areas. Rovio is an entertainment company, not only a game company," said Vesterbacka.
"Angry birds is the most copied brand in China. We are very happy to see there is a lot of demand. A lot of people love all things to do with Angry Birds but, so far, we haven't have a lot of official licensed products," said Vesterbacka.
"That is something in which we are investing a lot this year. We are planning to open our stores very soon, starting in Beijing and Shanghai." The company did not reveal when the new stores will be opened.
In cooperation with the biggest online trading platform in China, Tmall.com, Rovio opened an online store in February. It is the first game developer to do so.
It also partnered with telecom operator China Unicom to introduce a new version of Angry Birds to China in March to expand its consumer base.
Angry Birds has gained great popularity in China in recent years. In September 2011 the company revealed that nearly 40 million people had downloaded the game in China.
For Angry Birds, its development plan is not all about introducing the game to Chinese players and attracting more fans.
In January, before the Chinese New Year, the company cooperated with Sina Weibo, the popular Chinese micro-blogging service, to offer free downloads of its short video Year of the Dragon and comics. Vesterbacka said by including Chinese elements into game, it also helps the world know more about China.
tangzhihao@chinadaily.com.cn