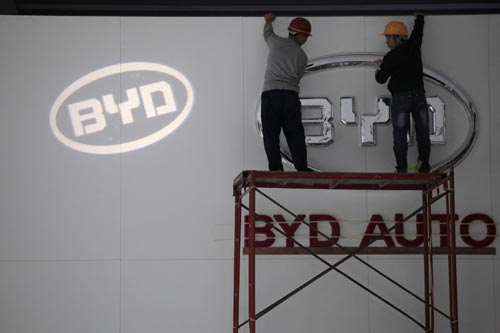 Workers work in front of the logo of Chinese car manufacturer BYD Auto, at the World Electric Vehicle Symposium and Exposition in the southern Chinese city of Shenzhen on Nov 4, 2010. [Photo / Agencies]
RIO DE JANEIRO -- BYD, a Chinese electric vehicle and solar panel manufacturer, will open its first factory in Brazil this year, with the aim of revolutionizing the country's urban transport.
Adalberto Maluf Filho, director of the company's marketing and governmental affairs in Brazil, told Xinhua that BYD is ready to provide non-polluting buses and taxis for large cities such as Rio and Sao Paulo.
As most large Brazilian cities do not have complete subway networks -- Sao Paulo, the largest city, has four subway lines while Rio has only two, public transportation faces major challenges.
The lack of rail systems has increased the demand for express bus lines and made electric buses a short-term viable option as diesel buses pollute.
BYD is part of a consortium that won a bid last week to develop a car-sharing scheme in Rio, initially with a fleet of 300 electric cars.
BYD will have an advantage as the company is familiar with the project' s requirements, said Maluf. "Those who carried out the implementation studies will have more knowledge about it."
BYD is establishing a factory in Campinas, Sao Paulo state, which will be operational by mid-2015. The factory will produce batteries, solar panels and assemble electric buses with imported parts.
A second factory, which will be built in Sao Paulo state or in the neighboring states of Minas Gerais and Rio de Janeiro, will manufacture bus chassis locally to reduce the costs of the vehicles.
Battery cells, currently being made only in China, South Korea, Japan and the United States, will also be produced in the factory with the aim of further reducing costs.
As the battery for electric vehicles makes them more expensive than cars that use fossil fuel, BYD will offer a leasing option in Brazil by which taxi companies and drivers can get cars (without battery) at the same price they would pay for a regular car while electric buses will be offered at the same price (without battery) as diesel vehicles, and the money that would have been spent on fuel pays for the battery leasing.
"It is the best deal in the world for taxi drivers, because today they are spending both on fuel and on car payments," Maluf said.
Several Brazilian cities have been testing BYD's electric buses.Campinas and Sao Paulo, both in Sao Paulo state, are purchasing BYD's electric buses, and other cities like Rio are in negotiations with the company for bus fleets.
"We expect to be able to provide a large fleet by early 2016, in time for the Olympic Games," Maluf said.
Rio will host the Summer Olympics next year and several projects are under way to prepare the city for the event.