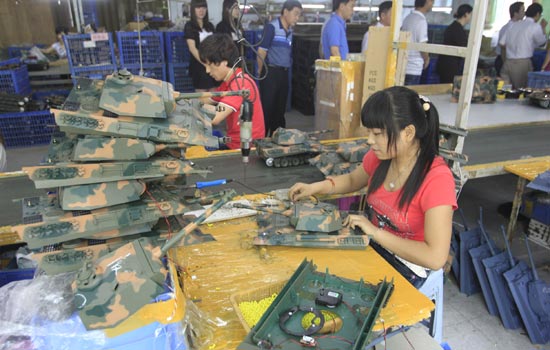 An employee of Chenghai Henglong Plastic Toys Co Ltd assembles a toy tank at the company's assembly plant in Shantou, Guangdong province. [Photo/China Daily]
Somewhere in southern China, there is a site where people build more than 100 helicopters or warships and dozens of tanks a day.
Is it a hidden military complex, invisible even to state-of-the-art spy satellites? A terrorist base?
The reality is much simpler: It's a plastic toy firm in Guangdong province, owned by a middle-aged couple, and the weapons and tanks are just models.
The wife Zhang Peizhen, talkative and sociable, is responsible for the production, marketing and sales of the company - Chenghai Henglong Plastic Toys Co Ltd - based in the Chenghai district of Shantou, a coastal city.
Her husband, Wang Weiguang, oversees design work and leads a design and mold-making team.
"We make scale models of tanks, helicopters and warships from different eras. Most of them are modeled on those made in Germany, Russia, the United States and China," said Zhang.
She proudly showed off the model of a tank that took part in the military parade in Beijing on Oct 1, 2009, to mark the 60th anniversary of New China's founding.
Operated by remote control and powered by a rechargeable battery, the tiny tank moves nimbly, emitting odorless smoke from time to time.
The cannon swirls and fires, ejecting plastic balls as far as 2 meters. Every time the cannon fires, the tank recoils, just like a real one on a battleground.
Zhang was equally proud of the company's big model helicopter, which can fly higher than the eye can see and can be equipped with a mini-camera.
The largest toys in her factory are made on a scale of 1 to 16, while others have smaller proportions, such as 1 to 24. The range allows her company to offer many choices to clients.
She said that the information about the tanks, helicopters and warships comes mainly from trade magazines and websites, which her husband scans whenever and wherever he can.
"Molds play an important role in the production of the toys," she said. "Fortunately, my husband is very experienced in making molds, and a computer-aided design system makes the process simpler, more accurate and efficient."
Wang learned to make molds in the 1980s, and he improved his skills with more than a decade of self-study.
According to Wang, before the use of computer-aided design, it could take as long as three years to make a mold for a model tank, helicopter or warship. Even a remote control mold could take a year.
"We had to draft design sketches and make molds manually," he said. "Pencils, compasses, rulers and protractors were almost all the equipment we had for the design work, and we had to rely heavily on hammers and chisels for making molds for most of the time."