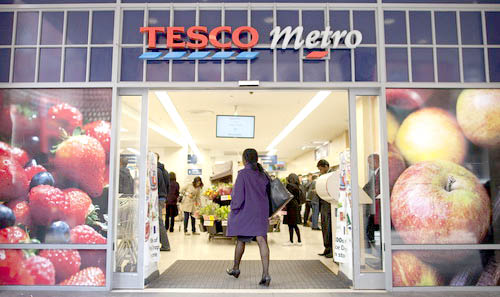 A Tesco Plc supermarket in London. Shanghai will be the first city where the company will introduce online grocery shopping in China, according to Lucy Neville-Rolfe, executive director of Tesco. [Photo/Bloomberg]  
Buoyed by an increase in demand from the e-commerce industry, the British retail giant Tesco Plc said it plans to experiment with allowing Chinese customers to go online to order food.
Lucy Neville-Rolfe, executive director of Tesco, said Shanghai will be the first city where Tesco will introduce online grocery shopping in China.
Neville-Rolfe did not specify when the company will begin to let Chinese customers order food online, only saying the change will come as soon as possible.
In late 2011, Tesco worked with Taobao.com, the largest Chinese online shopping platform, to offer general merchandise for babies and young mothers.
Its new online plans target people who go on weekly shopping trips.
"With general merchandise, we did cooperate with Taobao as a trial," Neville-Rolfe said. "I was actually talking about home shopping for food, which is a rather different thing. What we are doing is getting food delivered to homes. We are a world-leading business on that."
As Tesco pursues its e-commerce business plans, it might not consider working with an independent online business operator.
"The normal thing would be better using your brand website because it would be linked to your retail business," Neville-Rolfe said.
Figures from the research company Analysys International suggested that online trading operations had 806 billion yuan ($127.9 billion) in sales revenue in 2011, up 55 percent from 2010.
Retailers with physical stores have been paying more attention to online shopping in recent years as they try to gain a stronger position in their industry.
The US-based retail giant Wal-Mart is looking to acquire a controlling interest in Yihaodian.com, a Chinese online store.
In addition, Carrefour SA, a France-based retail giant, and CP Lotus Super Center, a subsidiary company of the Thailand-based Charoen Pokphand Group (CP Group), have also developed online shopping systems.
"The longer-term vision over the Internet is it is an exciting opportunity for us," Neville-Rolfe said. "It is the next-stage development for retail, particular for general merchandise. We are trying to give a strategic thought for that."
Peng Jianzhen, deputy secretary-general of the China Chain Store and Franchise Association, said the development of online shopping has become essential for large retailers in recent years, largely because younger shoppers prefer it.
Tesco, to better support its development in China, opened a distribution center in Jiashan, Zhejiang province, last year.
In addition to its plans for online shopping, Tesco intends to open 16 new stores in China this year. Neville-Rolfe did not say where those stores will be located.
To protect the environment, Tesco's plans call for building the stores in a way that prevents them from using large amounts of energy, Neville-Rolfe said.
She attended the 2nd Retail Sustainable Development Forum in Suzhou, Jiangsu province, on Thursday.
tangzhihao@chinadaily.com.cn