JIASHAN, Zhejiang province - Tesco Plc China will open more than 20 stores this year and has opened its first freehold and largest logistics center in coastal Zhejiang province.
Tim Ashdown, chief executive of Tesco China, said that in addition to its core business around Shanghai, the company plans to expand more quickly and in different areas around the country.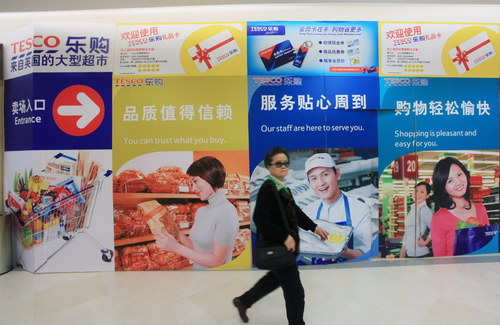 A Tesco store in Fuzhou, Fujian province, the British retailer's 95th outlet in China. The company plans to add some 20 outlets in the country this year. [Photo/China Daily]
"We will introduce a clothing and baby line online in September, as well as start grocery shopping online in Shanghai next year," he said on Wednesday.
The company opened its freehold distribution center in Jiashan, Zhejiang province. The 240,000-square-meter center has an energy-efficient design and an extensive range of green technologies, such as ground-source heat pumps for central heating and solar water heating.
The center is expected to use 45 percent less energy, 40 percent less water and generate 35 percent less carbon emissions than traditional logistics warehouses.
"The Jiashan logistics center marks an important milestone in the ongoing delivery of Tesco's climate-change mitigation strategy in China and sets a benchmark for our future projects," Ashdown said.
The center will optimize Tesco's distribution network in East China by distributing grocery and non-food products to 53 hypermarkets and 12 convenience stores in East China as well as delivering the company's self-made products to four other regional distribution centers, including Shenyang, Tianjin and Guangzhou.
Guo Geping, director of the China Chain Store and Franchise Association, said the Tesco distribution center will further increase the company's operational efficiency, help to create more competitive retailing prices and increase its control over food safety.
"It will benefit both retailers and suppliers because it is more efficient than having individual suppliers make deliveries to various stores, and retailers can better control product quality," she said.
Tesco is the world's third-largest retailer by revenue, after the US WalMart and French Carrefour.
The London-listed company entered the Taiwan market in 2004, and now has 96 supermarkets and 12 convenience stores on the Chinese mainland. Most of Tesco China's stores are located in the Shanghai area.