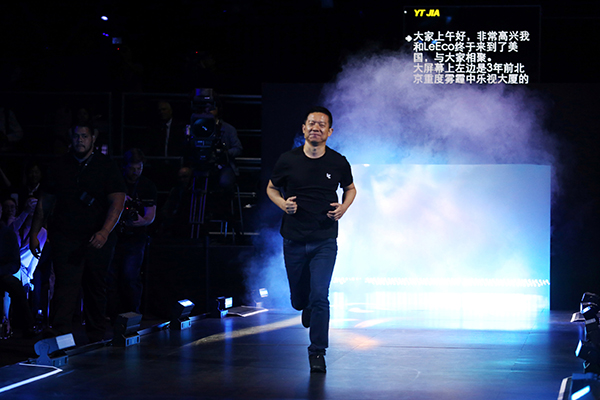 LeEco CEO and founder Jia Yueting runs on stage at the press event in San Francisco, Oct 19, 2016. [Photo/Agencies]
Chinese internet giant LeEco launched several new products in San Francisco on Wednesday, marking its expansion into the US market.
"Globally, the United States is the most important market to us with users of mature consumption habits," said Jia Yueting, founder, chairman and CEO of LeEco.
"Only with the recognition of US customers, can we win over customers in the world."
LeEco released its cloud platform-LeCloud, its Ecosystem User Interface, its User Planning to User program and some smart devices during the press conference.
Powered by a Qualcomm Snapdragon 821 processor and 4070mAh battery, the 5.5-inch screened Le Pro 3, LeEco's flagship ecophone is priced at $399.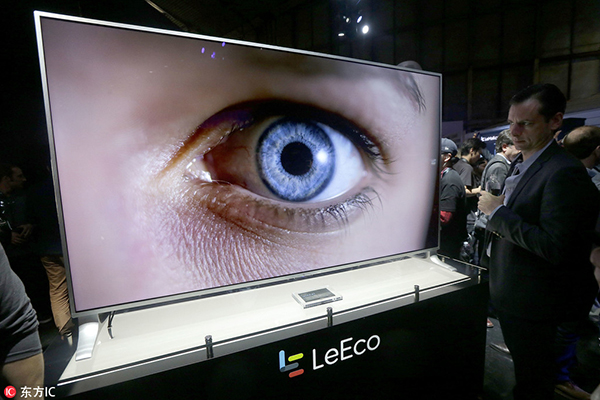 LeEco's new 85 inch television is unveiled at the press event in San Francisco, Oct 19, 2016. [Photo/IC]
Another smartphone, Le S3, also with a 5.5-inch screen and Qualcomm Snapdragon 652 processor, is available in gold, gray and rose gold for $249.
The uMax85 4k television, with an 85-inch display and HDR 10, sells for $4,999.
LeEco's Super4x series, including the 43-inch, 55-inch and 65-inch models, are priced at $649, $899 and $1,399, respectively.
All devices will be available via the sales system on LeMall.com, starting from November 2.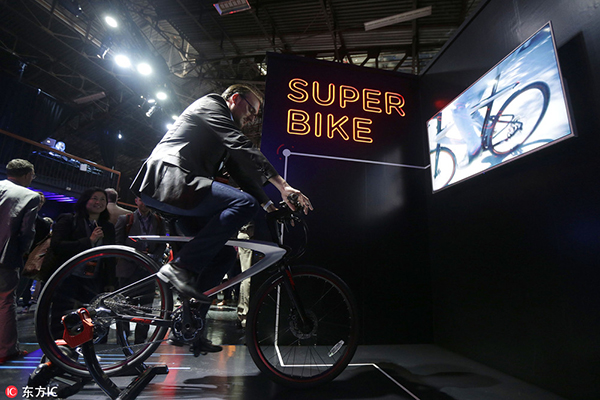 A man rides LeEco's Super Bike at the press event in San Francisco, Oct 19, 2016. [Photo/IC]
Thanks to its unique ecosystem business model, which can deliver content and services on connected devices including smartphones, TVs, smart bikes, virtual reality and electric self-driving vehicles, buyers of both smartphones and TVs can enjoy streaming services and value-added features.
"We have created a new business model that will lead the next era of technology- the ecosystem era. We are breaking down barriers and boundaries between industries and screens to create a better experience and more value for both individuals and industries," said Jia.
LeEco Super Bike, a smart bike, the Explore VR, a VR headset and LeSEE Pro, an electric self-driving car developed by LeEco and its strategic partner Faraday Future, were also showcased during the conference.
Jia couldn't help but share the news that the first mass-produced vehicles by Faraday Future may be officially launched on the CES in January.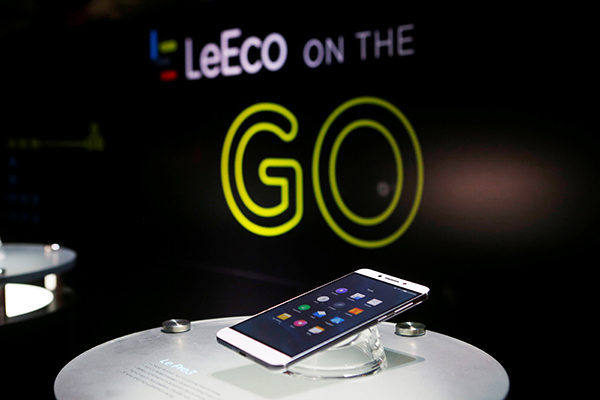 LeEco's new Le Pro3 phone on display at the press event in San Francisco, Oct 19, 2016. [Photo/Agencies]
"Following our success in China, we expanded to India last year and Russia in September. Today, we are pleased to officially launch in the US," said Richard Ren, president of LeEco North America.
Founded in 2004, LeEco started as a video-streaming service provider akin to Netflix Inc, but it rapidly grew into a heavyweight with a presence in smartphones, TVs and electronic cars.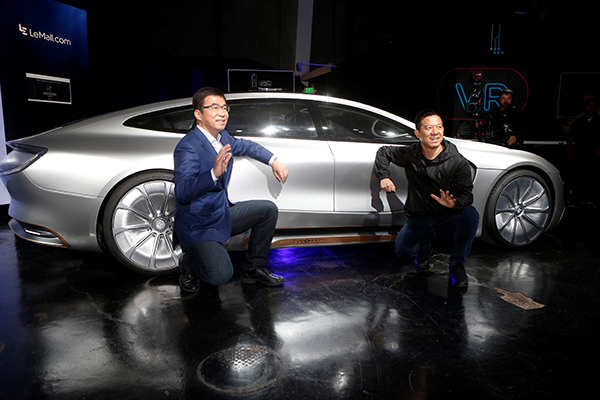 LeEco CEO and founder Jia Yueting (right) and co-founder and Global Vice Chairman Lei Ding pose in front of a LeSEE car at the press event in San Francisco, Oct 19, 2016. [Photo/Agencies]