PepsiCo Inc has announced an ambitious global sustainability agenda designed to foster continued business growth in a way that responds to changing consumer and societal needs. The company's efforts, which focus on creating a healthier relationship between people and food, include specific 2025 goals to continue transforming PepsiCo's food and beverage product portfolio, contribute to a more sustainable global food system and help make local communities more prosperous.

These initiatives continue PepsiCo's decade-long commitment to delivering Performance with Purpose, a pioneering vision launched in 2006 which is rooted in the fundamental belief that business success is inextricably linked to global sustainability.
"To succeed in today's volatile and changing world, corporations must do three things exceedingly well: focus on delivering strong financial performance, do it in a way that is sustainable over time and be responsive to the needs of society," said PepsiCo Chairman and CEO Indra Nooyi.
"The first 10 years of PepsiCo's Performance with Purpose journey have demonstrated what is possible when a company does well by also doing good," she said.
"We have created significant shareholder value, while taking important steps to address environmental, health and social priorities all around the world."
Nooyi said PepsiCo's journey was far from complete, and its new goals were designed to build on its progress and broaden the company's efforts.
"We have mapped our plans against the United Nations Sustainable Development Goals, and we believe the steps we are taking will help lift PepsiCo to even greater heights in the years ahead," she said.
"Companies like PepsiCo have a tremendous opportunity, as well as a responsibility, to not only make a profit, but to do so in a way that makes a difference in the world."
Three pillars of sustainable growth
PepsiCo's Performance with Purpose agenda for the coming decade is focused on three core priorities: helping to improve health and well-being through the products it sells, protecting the planet and empowering people around the world.
Across its business and in partnership with others, PepsiCo is taking a holistic approach to achieving progress in all three areas. The company's plans have been informed by current scientific research, consumer expectations and dialogue with key stakeholders, as well as by the UNs' 2030 Agenda for Sustainable Development.
In pursuing these goals, the company's actions will be consistent with responsible capital allocation, commitment to its financial targets and the creation of shareholder value. The company believes that achieving these goals will enhance its long-term financial performance.
"During the past decade, PepsiCo has become a role model for global companies by demonstrating that aligning business and societal interests is a recipe for strong financial results," said Bill George, senior fellow at Harvard Business School.
"PepsiCo's example is a positive reminder that the world's top-performing companies are increasingly measured by more than short-term financial returns," he said.
"They can and must be forces for good in the world, and those that embrace this mindset will be best positioned to deliver for both shareholders and society."
Products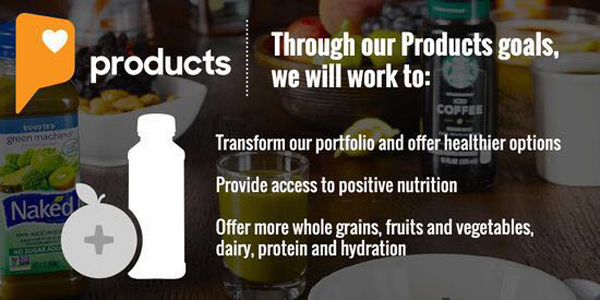 PepsiCo's ambition is to enable better nutrition by continuing to develop a broader portfolio of food and beverage choices and increasing access to great-tasting, nutritious options.
Informed by the latest dietary guidelines from the World Health Organization and other authorities, the company will continue to refine its food and beverage choices to meet changing consumer needs by reducing levels of added sugars, saturated fat and sodium in its products.
The company also reaffirms its commitment to deliver on its policies for labeling and responsible advertising to children. PepsiCo will continue to support industry actions in these areas.
Planet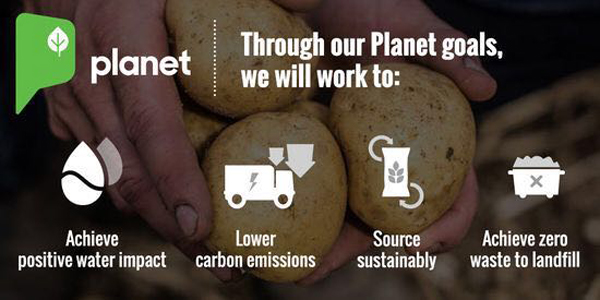 PepsiCo's sustainability aim is to reduce the environmental footprint of the food system through operational efficiencies and mobilization of its suppliers and business partners.
The company supports the Paris Climate Agreement and is focused on reducing its environmental impact while growing its business. It will continue improving the efficiency of its manufacturing and distribution operations while also broadly extending its environmental stewardship efforts across its global operations.
As part of its focus on protecting the planet, PepsiCo will work to achieve a positive water impact, significantly lower its carbon emissions, reduce emissions related to agriculture and packaging, promote sustainable sourcing of crops and reduce waste.
"The planet is facing unprecedented challenges that require us to make transformational changes to the way we grow the economy, feed the world and provide dignified employment," said Dr Andrew Steer, president and CEO of the World Resources Institute.
"I welcome the breadth of PepsiCo's approach and I urge the company to continue leading on these important issues. PepsiCo's actions demonstrate how business can serve as an agent of change and enable the type of solutions needed for us to thrive in a resource-constrained world."
People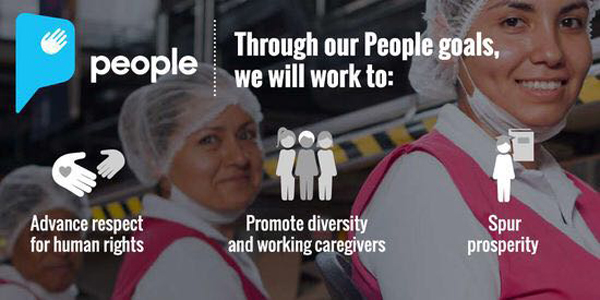 PepsiCo plans to empower people and social development across its operations, supply chain and communities.
Building on its support for the UN's guiding principles on business and human rights, PepsiCo is broadening its focus on respecting human rights across its supply chain. In addition, the company is pursuing fresh initiatives to promote diversity in its global workforce, support the advancement of women, and spur social and economic development in communities around the world.
"Thousands of farmers and communities all over the world benefit from PepsiCo's sustainable sourcing practices," said Paul Rice, president and CEO of Fair Trade USA.
"Beyond improving the livelihoods of families and contributing to positive social outcomes, sustainable sourcing is increasingly important to a growing number of consumers who want to shop their values through fair trade certified products."